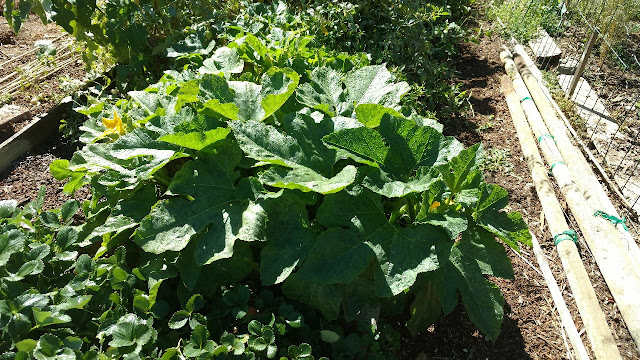 Pumpkin plants grow rapidly in summer. Seeds planted now will produce a plant this big by August. (Photo: Debbie Arrington)
Yolo County master gardeners lead month-by-month class on kitchen gardening
It may be only the second week of summer, but it's already time to think about fall -- especially if you're planting pumpkins.

Learn how to plant ahead during "Kitchen Gardening by the Month," a free class presented by the UC Cooperative Extension Master Gardeners of Yolo County. The one-hour class is set for 11 a.m. Saturday, June 29, at the Woodland Edible Learning Garden, Court and First streets in downtown Woodland.

Master gardeners Treva Valentine and Mary Foe will show you what to plant, grow and harvest now in the edible garden including vegetables, fruit, herbs and flowers.

Saturday's class will focus on fall planting including that most popular fall staple -- pumpkins. Pumpkin seeds planted now should bear ripe pumpkins just in time for Halloween and fall decorating (or eating).
Want to learn more about kitchen gardening? Valentine and Foe conduct this class series the last Saturday of each month.
Details:
yolomg.ucanr.edu
.