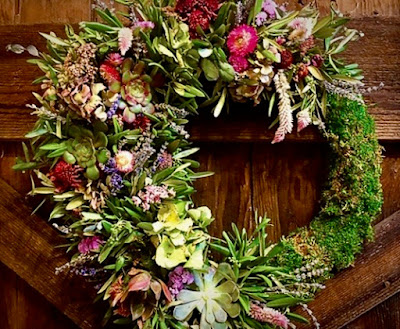 Make a summer wreath at one of the two workshops coming up at High-Hand
Nursery. (Photo courtesy High-Hand)
Learn how to make these decorations at High-Hand workshops
Wreaths aren't just for the winter holidays.
Celebrate summer and add some natural flair to your décor with a summer wreath. Learn how at two workshops offered by High-Hand Nursery and Conservatory in Loomis.
Each workshop will teach how to turn freshly harvested olive branches and eucalyptus into a decorative wreath. Add wispy stems of dried lavender, coneflower, strawflower and hydrangea to give it a wild and natural feel. Complete your creation with vibrant succulents and moss.
For refreshments, mimosas and fresh baked scones will be served.
Make your reservations now. The two-hour workshop will be offered at 10 a.m. on your choice of two Saturdays: July 27 or Aug. 10. Fee is $65 including all materials. Take home your finished wreath.
The workshops will be held in the High-Hand Fruit Shed (adjacent to the nursery), 3750 Taylor Road, Loomis.
Details and reservations:
www.highhand.com
.