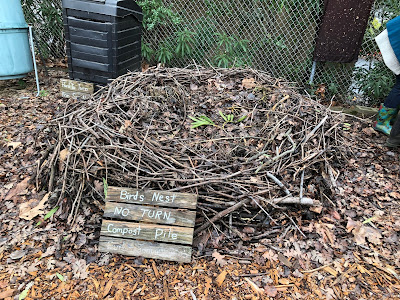 This is one of the easiest types of compost piles, a no-turn,
no-bin
"bird's nest" pile at the Fair Oaks Horticulture Center. Learn about
composting and soil Saturday in Roseville. (Photo: Kathy Morrison)
Roseville workshop shows how to make both better
Don't treat your soil like dirt! Make the most of your garden's natural assets and build better soil, too, with the help of this workshop.
"Soil and Compost: A Perfect Partnership" will be presented at 10 a.m. Saturday, Nov. 9, at the Roseville Utility Exploration Center, 1501 Pleasant Grove Blvd., Roseville.
Placer County master gardeners will lead this practical class on how to turn kitchen waste and fallen leaves into garden gold.
"Soil is the foundation of all things green," say the master gardeners in their workshop description. "You will learn the basics of backyard composting, the positive effects it has on your soil, and how compost benefits your garden."
Course fee is $6 Roseville residents, $8 non-residents. Open to ages 14 and up. Registration is required; use course code 00013845 at
www.roseville.ca.us/gardeningworkshops
or call 916-746-1550. (Online, look for all Roseville gardening classes under "Enrichment - Adult.")
Details:
https://www.roseville.ca.us/residents/utility_exploration_center