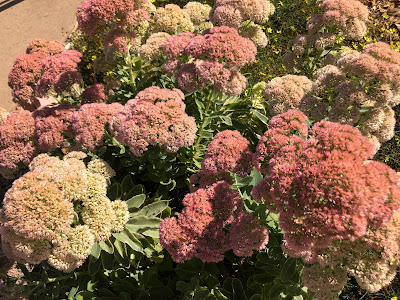 Stonecrops such as this 'Autumn Joy' variety are among
low-growing shrubs that are good choices
for fire-resistant landscaping.  (Photo: Kathy Morrison)
Fire season is now year-round in California. Let your landscape help you protect your home against wildfires with "Fire-wise Landscaping," a new online workshop offered by the UC Cooperative Extension master gardeners of El Dorado County.
Set for 9 a.m. Thursday, Feb. 25, this free workshop is open to anyone. Advance registration is required.
Whether your home is surrounded by wilderness or suburbia, fire-wise landscaping can make a difference.
"Creating effective defensible space can help your home be more resilient to wildfire, but how exactly do you do that?" say the workshop organizers. "Yes, it's a bit of an art, but we will work to relay current knowledge on what works."
That includes tackling myths about which plants can be part of defensible space.
"A fire-wise landscape does not have to be water-thirsty, nor does it need to be unfriendly to wildlife," the organizers said.
Master gardener Alice Cantelow will show "how to balance safety, aesthetics, and sustainable gardening while increasing the chances your home can withstand a wildfire."
To learn more or register:
http://mgeldorado.ucanr.edu/
.