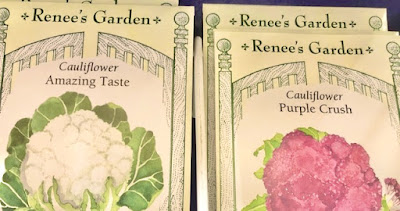 Cauliflower seeds can be started now, inside or in a protected
place, for planting out in September. (Photo: Kathy Morrison)


Vegetable gardening doesn't stop after summer in Sacramento or the Sierra foothills. Like most of California, we can grow food year round.
While we're still picking tomatoes and coping with triple-digit heat, it's time to start planning – and planting – for fall and winter.
Learn how, including tips for gardeners at higher elevations, during a free Zoom workshop, presented by the UC Cooperative Extension Master Gardeners of El Dorado County.
Set for 9 a.m. Saturday, Aug. 7, "Fall & Winter Vegetables" will pack a lot of information into 90 minutes. Master gardener Zack Dowell will offer techniques and proven strategies for success.
The virtual class is free, but advance registration is required. Once signed up, participants will receive the Zoom link and other information.
This online workshop is part of a summer-fall series offered by the El Dorado County master gardeners. Also coming up are "Summer Pruning" (Aug. 14), "Landscape Transformation" (Sept. 11) and "Successful Gardening with Native Plants" (Sept. 25). All classes are open free to the public regardless of where they live.
Questions? Call 530-621-5512.
Details and link to register:
http://mgeldorado.ucanr.edu/
.