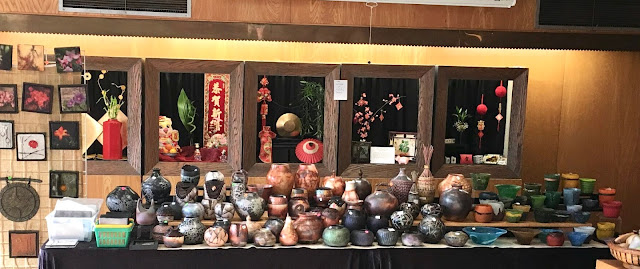 The display above is an Art by Fire flashback, to a 2019 sale. The Sacramento Potters' Group sale returns Saturday, Oct. 23, to the Shepard Garden and Arts Center. (Photo courtesy Art by Fire)
Every gardener needs good pots – and vases, too. One place to find memorable, beautiful and unique containers (and a lot more): The annual Sacramento Potters' Group "Art by Fire" sale at Shepard Garden and Arts Center.
Set for Saturday, Oct. 23, this huge sale features handmade pottery and ceramics by local Sacramento artists at good prices. Shepard Center will be packed with one-of-a-kind pieces by dozens of local craftspeople.
This sale also is a great place to do early holiday shopping – so many gift ideas! Besides pots and vases, find bowls, plates, teapots, mugs and countless other clay creations.
Art by Fire features more than 80 "clay people." Check out some of the participating artists here:
https://artbyfire.org/members-artists/
Sale hours will be 10 a.m to 4 p.m. Saturday. Admission and parking are free.
As with all public events in Sacramento, patrons are asked to wear face masks and social distance while enjoying the sale.
Shepard Center is located at 3330 McKinley Blvd., Sacramento, in McKinley Park.
Details:
https://artbyfire.org/
.