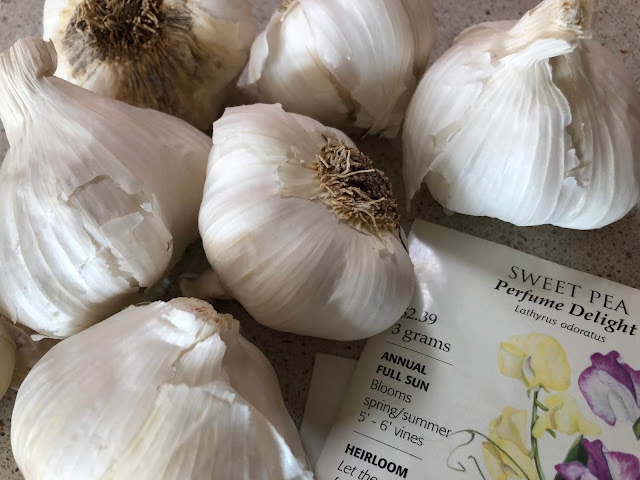 Garlic can still be planted now while the weather is mild. Get a good start on spring blooms by seeding sweet peas now, too.
(Photo: Kathy Morrison)
Normal November weather great for getting things done
Cooler weather has arrived, prompting plants to go into winter mode. Trees, which have been holding onto their colorful fall foliage, will be dropping leaves en masse.
That leaf drop will be particularly noticeable as winds pick up. The National Weather Service forecasts gusts this weekend of 20 to 25 mph in the foothills and northern Sacramento Valley. It will be breezy in other parts of the valley, too.
Meanwhile, conditions will remain extremely dry, at least a few more days. Coupled with wind, that creates dangerous fire conditions. There's a lot of dry fuel out there. Don't drive vehicles over dry grass or weeds; any spark could cause a fire. Also, use caution with power tools; a blade hitting a rock can start a fire, too.
Sacramento high temperatures are forecast in the low 70s and high 60s with clear and sunny skies through Friday. Lows will dip into the low 40s by week's end. In other words, it's normal November weather.
Time to catch up on chores:
* Now is still a great time to plant most trees and shrubs. It's also a good chance to relocate large plants.
* Rake and compost leaves, but dispose of any diseased plant material.
* Give your azaleas, gardenias and camellias a boost with chelated iron.
* Prune non-flowering trees and shrubs while dormant.
* Prune dead or broken branches from trees.
* To help prevent leaf curl, apply a copper fungicide spray to peach and nectarine trees after they lose their leaves this month. Leaf curl, which shows up in the spring, is caused by a fungus that winters as spores on the limbs and around the tree in fallen leaves. Sprays are most effective now.
* If you haven't already, it's time to clean up the remains of summer. Pull faded annuals and vegetables.
* Keep planting bulbs to spread out your spring bloom. Some possible suggestions: daffodils, crocuses, hyacinths, tulips, anemones and scillas.
* This is also a good time to seed wildflowers and plant such spring bloomers as sweet peas, sweet alyssum and bachelor buttons.
* Set out cool-weather annuals such as pansies and snapdragons.
* Lettuce, cabbage and broccoli also can be planted now. Plant garlic and onions.