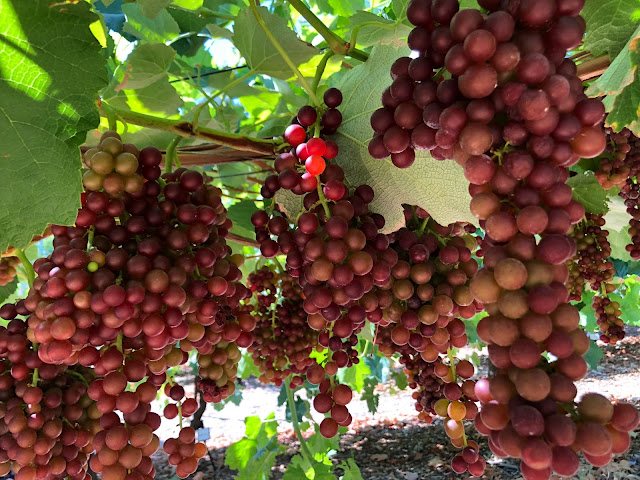 You can pay a virtual visit to the grapevines at the Fair Oaks Horticulture Center this year. Master gardeners will have video demonstrations on many topics, including "Pests of the Vineyard." (Photo: Kathy Morrison)
Coronavirus risk prompts master gardeners to adapt popular event
Did you attend Harvest Day last year? The celebration of all things growing typically packs in gardeners and wanna-be gardeners to the Fair Oaks Horticulture Center, where the UCCE Sacramento County master gardeners maintain a gorgeous demonstration garden and orchard. Speakers, demonstrations and booths are part of the usual schedule.
The event's alway held on the first Saturday of August. It'll happen this year, too, on Aug. 1 -- but with a significant COVID-19 pivot: Everything will be online, either live or videotaped.
The two main speakers will be on video, and their presentations will be available for viewing starting in mid-July. The topics and speakers are:
-- "Building Resilient Gardens," Karrie Reid, environmental horticulture adviser for UCCE San Joaquin County. She also is a trainer of landscape professionals in sustainable practices including the Green Gardener Qualification Training series.
-- "Growing Fruit in Limited Space Using Size Control," Ed Laivo,  fruit tree and edible landscaping specialist. Formerly with Dave Wilson Nursery, he is now sales and marketing director at Burchell Nursery, Oakdale.
Then on Aug. 1 there will be a live Q&A with each of them: Reid from 9 to 9:50 a.m. and Laivo from 10 to 10:50 a.m. Those will be followed by a live Q&A panel with some Sacramento County master gardeners.
And what of the demos that usually happen at Harvest Day? Typically there are so many you can't get to them all. But this year, that will be possible because they all will be taped. Check out this list of planned videos:
General:
-- Tour of Fair Oaks Horticulture Center
Berries:
-- Netting
Composting:
-- Getting Started with Composting
-- Composting ABCs
-- Composting Hot and Cold
-- Worm Composting
-- Worm Harvesting
Herbs
-- Lavender: Pruning and Harvesting
-- Growing Herbs in Containers
Orchard
-- Fruit Thinning
-- Fruit Tree Pruning
-- Fruit Tree Scale
Vegetables
-- Straw Bale Gardening
-- Sharpening Pruners
-- Soil Solarization
-- Abiotic Tomato Issues
-- Veggies in Containers
Vineyard
-- Pests of the Vineyard
Water-Efficient Landscape
-- Pruning Perennials
-- Pruning Ornamental Grasses
-- Gardening for Wildlife
-- Walking Tour
The coolest thing about this is that all the videos will be available after Harvest Day, too. Permanent resources for Sacramento-region gardeners!
Harvest Day 2020 also will mark the start of online sales of the next Gardening Guide and Calendar, a great resource for Sacramento-area gardeners. (Excellent gift, too.) The theme of the 2021 guide is Trees.
A limited number of botanically dyed scarves also will go on sale as part of the Harvest Day activities.
To download the Harvest Day 2020 brochure, go
here
. To read more about the UCCE Sacramento County master gardener program and the Fair Oaks Horticulture Center, go to
http://sacmg.ucanr.edu/
.