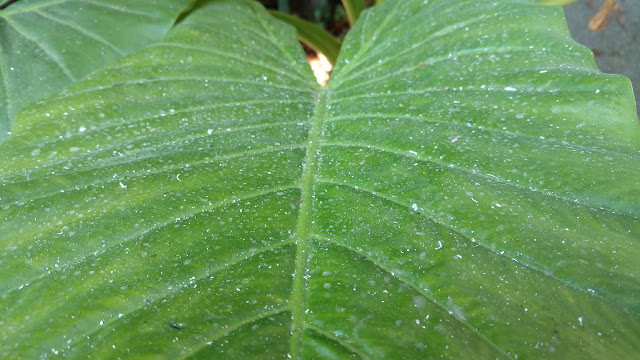 Ash particles pepper an elephant ear leaf. Rinse off the debris. (Photos: Debbie Arrington)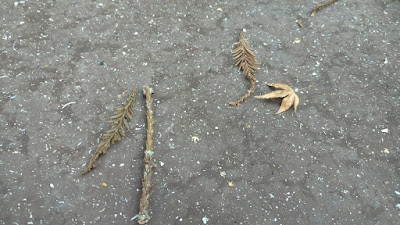 Use a broom or hose to remove ash from the patio, not a leaf blower.
It's raining ash! After all this high heat, what's that going to do to the tomatoes?
Wildfires in Solano and Napa counties have filled our skies with smoke and ash, which can travel many miles from burn areas. It's unhealthy for people or pets to be outdoors.
When we do go outside, everything is dusted with fine particles of ash. And it's still stifling hot.
If working around ash, wear protective clothing such as long sleeves, long pants, gloves, googles and (of course) a face mask. If ash gets on your skin, wash off promptly.
Don't use a leafblower for ash removal. It just puts it back into the air.
Instead, consider where that ash came from and how your garden can cope.
Most plants will be just fine. They deal with smoke better than we do. As they process carbon dioxide, they also help filter out smoke, cleaning the air. Another benefit: That smoky haze can act like cloud cover and lower temperatures. We might finally break our streak of triple-digit days.
But smoke also contains particulate matter that clogs leaf pores and hampers this cleansing process. This gritty residue can coat the outside of vegetables and fruit, too.
To remove ash residue, spray plants gently with water -- preferably early in the morning. That acts like a rain shower, nature's way of rinsing away debris.
The crops most vulnerable to smoke: Grapes and tomatoes. Both can absorb smoke into their skins, causing what's called "smoke taint" to their flavor. (Winemakers refer to it as "ashtray taste.") The volatile phenols in ash and smoke also are absorbed by the plant's leaves.
Most grape growers wash the smoke residue off picked fruit instead of rinsing their vines. They also may discard the grape skins before processing. Consider that same approach if processing your own homegrown grapes or tomatoes.
As for the ash, it can cause a gritty film on tomatoes and other vegetables. It tends to stick to tomato skin or kale leaves, more so than ordinary dirt.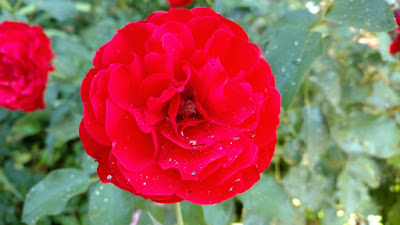 Ash accumulates on petals of a Trumpeter rose.

Not all ash is the same. Ash from burning forests or grasslands is similar to fireplace ash; it's acidic, even beneficial to a garden, and generally safe. That ash and any smoky residue could be scrubbed off with water and a little dish soap. then rinsed and dried. For leafy greens, submerge completely in a basin filled with water and a teaspoon of soap, then scrub, rinse and pat dry.
Ash from chemical fires, destroyed buildings or burned-out automobiles can be harmful. (That's the type of ash we get if neighborhoods burn in wildfires.)
Vegetables covered with that ash residue should be discarded, UC master gardeners recommend.