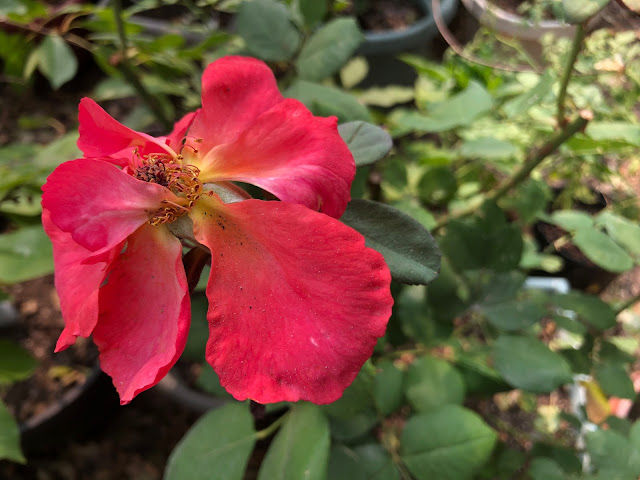 Cut off spent blossoms from roses for rebloom in six to eight weeks. (Photo: Kathy Morrison)

One lesson we're learning during these final weeks of a very weird summer: Which plants cope well with smoke?
Make observations in your own garden and notes for future use.
Expect more smoke at least for the next few days along with much lower temperatures. Our afternoon highs are forecast for the 80s, more than 20 degrees cooler than last week and below normal for mid-September. But poor air quality makes it difficult to do much of anything outdoors.
Until the smoke clears, concentrate garden activity to the early morning. Wear a smoke-filtering face mask, such as a N95 (if possible), or a wet bandana.
What needs attention this week? These tasks top the list:
* Harvest tomatoes, beans, squash, pepper and eggplants. Wash thoroughly to remove ash, grit and smoke residue.
* Water trees, shrubs and vegetable garden deeply. Give extra water and attention to plants in containers.
* Wash any accumulated ash from wildfires off leaves.
* Pull and compost spent plants in the vegetable garden.
* Cut off spent blooms from roses, annuals and perennials. Roses will rebloom about six to eight weeks after deadheading.
* Divide and replant bearded irises.
* Pick up after your fruit trees. Clean up debris and dropped fruit; this cuts down on insects and prevents the spread of brown rot.
* Watch out for caterpillars and hornworms in the vegetable garden. Pick them off plants by hand in early morning or late afternoon.
* Knock spider mites and their webs off plants with a blast of water. Do this in the morning for best results.
* Sow seeds of perennials in pots for fall planting including yarrow, coneflower and salvia.
* Indoors, start seedlings for fall vegetable planting, including bunching onion, cabbage, broccoli, cauliflower, kale, radicchio and lettuce.