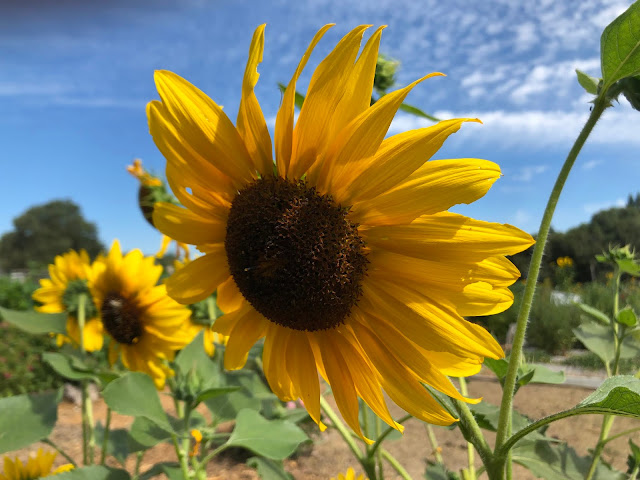 At least sunflowers don't add to the high temperatures — they just add summer cheerfulness. (Photo:
Kathy Morrison)
How hot can it get? This weekend may show us.
According to the National Weather Service, Sacramento's high temperatures will flirt with our all-time record of 114 degrees.
Excessive heat warnings are in effect until Monday night. The weather service recommends people and pets stay indoors after 10 a.m.
Unfortunately, your garden can't come inside or turn on the air conditioning. It's going to have to wait until the return of the Delta Breeze on Tuesday before it gets some temperature relief.
In the meantime, concentrate on keeping your garden – and yourself – as cool, hydrated and comfortable as possible:
* Keep your vegetable garden watered, mulched and weeded. Water before 8 a.m. to reduce the chance of fungal infection and to conserve moisture.
* Don't let tomatoes dry out completely. Give tomatoes a deep watering two to three times a week.
* Check soil moisture and irrigate where needed. Container plants may need daily watering.
* Deep water trees and shrubs.
* Pinch back chrysanthemums for bushy plants and more flowers in September.
* Harvest tomatoes, squash, peppers and eggplant. Prompt picking will help keep plants producing.
* Remove spent flowers from roses, daylilies and other shrubs and perennials as they finish flowering.
* Pinch off blooms from basil so the plant will grow more leaves.
* Cut back lavender after flowering to promote a second bloom.
* One good thing about hot days: Most lawns stop growing when temperatures top 95 degrees. Keep mower blades set on high.