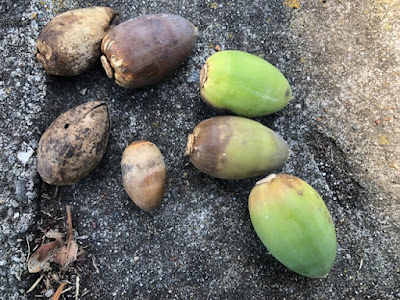 Acorns are starting to fall. The Sacramento Tree
Foundation trains volunteers to gather viable
acorns to grow into trees. (Photo: Kathy Morrison)
It's almost that time of year again: Acorns will soon be here!
As part of its oak reforestation program, the Sacramento Tree Foundation annually trains volunteers to gather viable acorns to grow into trees.
Registration is now open for the two-part training schedule, set for 6 p.m. Wednesday, Sept. 22, and the following Sunday morning, Sept. 26. The Wednesday evening session is virtual and will be held online. The follow-up morning session will include hands-on acorn gathering at a site to be determined.
Participation is free, but space is limited. Sign up early.
"At the Sacramento Tree Foundation, we steward our urban forest from seed to slab," say the organizers. "The annual acorn harvest celebrates the beginnings of the lifecycle of our native oaks. Acorns are harvested by volunteers, carefully sorted by interns, grown into seedlings by schoolchildren, planted at reforestation sites by volunteers, and stewarded by our staff. When trees reach the end of their lifespans, we salvage and sell their wood to further support education and programming around the lifecycle of the urban forest."
That process starts with the acorns. Each fall, SacTree volunteers gather thousands from native oaks. The Acorn Harvester training sessions and program are open to all ages. Students under age 16 are encouraged to attend with a parent or adult.
"Acorn Harvesters will learn how to harvest in a sustainable and ethical way and how to work under the organization's harvesting permits," say the organizers.
Other than training, no tools or advance knowledge is required. Families are welcome to participate.
To sign up or get more details:
www.sactree.com
.