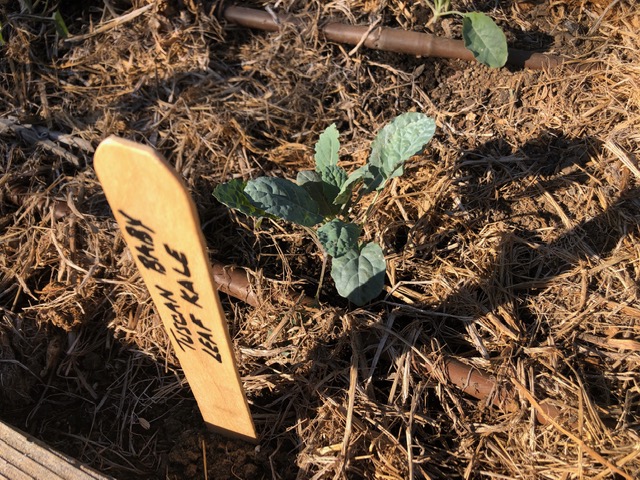 At the Sept. 11 Open Garden, check out what's growing in the Fair Oaks Horticulture Center's Vegetable Garden. (Bet there will be kale.) (Photo:
Kathy Morrison)
The light is changing, the summer garden is winding down.  As planning and planting for fall begin in earnest, gardeners can reap loads of advice from the UCCE master gardeners of the region. While each of the counties has its own program, the advice each group offers is often applicable across the Sacramento gardening area, with some tweaks for microclimates.
Here are some upcoming master gardener classes and events:
--- The Yolo County master gardeners will hold a "Kitchen Garden Chat" this Saturday, Sept. 4, starting at 10 a.m. The master gardeners will discuss "how to finish up your summer  garden, what to do with your winter garden and seed saving." The event will be both in person -- at the Leake Room of the Woodland Library -- and on Zoom. The link to join via Zoom is here: https://ucanr.zoom.us/j/95676702285
-- The Open Garden on Saturday, Sept. 11, from 9 a.m. to noon, will be the first by the Sacramento County master gardeners since February 2020. The Fair Oaks Horticulture Center, the MGs' demonstration garden, has undergone several changes since then, including the installation of the beautiful Chuck Ingels Memorial Gate. The FOHC is at 11549 Fair Oaks Blvd. in Fair Oaks.
Master gardeners will be on hand to answer questions about composting, orchard and vineyard care, winter vegetables,  berry and herb gardening, and landscaping with limited water. Gardeners with questions can bring samples or pictures of problem plants to the Ask a Master Gardener table. The Gardening Guide and Calendar also will be on sale, for $10. For more information: http://sacmg.ucanr.edu/?calitem=389780
-- Invasive plants! Preventing them is the focus of a "Wild Wanderers" Zoom workshop presented from 10:30 to 11:30 a.m. Saturday, Sept. 11, by the Placer County master gardeners. Learn how to fight "Thugs, Multipliers and Pests," as the MGs call them. Zoom link: https://us02web.zoom.us/j/89053008203? passcode: garden.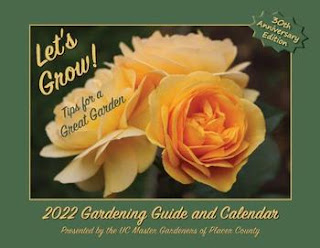 This is the beautiful cover of the Placer master
gardeners' Gardening Guide and Calendar.
The Placer Master gardeners will release their 2022 Gardening Guide and Calendar on Sept. 7. For a sneak peek, go here:
http://pcmg.ucanr.org/2022_Calendar/
-- Another valuable Zoom class, "Landscape Transformation," is offered online from 9 a.m. to 10:30 a.m. Saturday, Sept. 11, by the master gardeners of El Dorado and Amador counties. Registration is free but required; to register go here: https://surveys.ucanr.edu/survey.cfm?surveynumber=35346
-- Kathy Morrison
NOTE FOR NEWSLETTER SUBSCRIBERS
Sacramento Digs Gardening plans to change (and upgrade, we hope) our newsletter distribution service soon. Anyone already on our subscription list will be migrated to our new list, but you may be asked to reconfirm your interest in receiving the newsletter version of our blog. The blog itself will stay at its present blogspot address for now, but also will move to a new site later this fall, giving us more flexibility in design and offerings.
Thanks for reading!
Debbie and Kathy