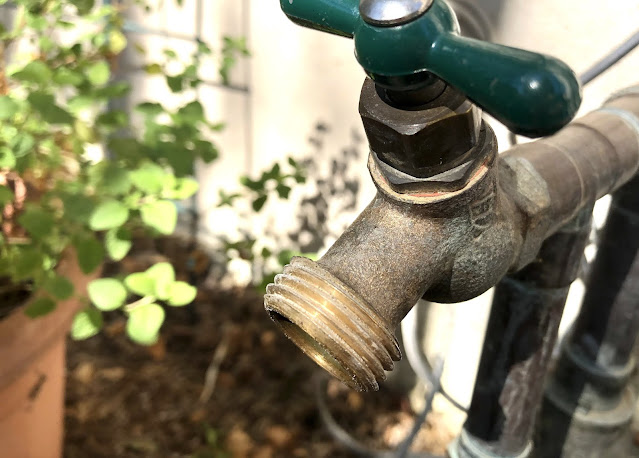 Will the rain spigot ever turn back on for Sacramento? We can hope for "real" rain next week, but the dry days keep adding up in the meantime. (Photo: Kathy Morrison)
Sacramento got a little surprise Wednesday morning – a few drops of rain from a quickly passing storm system.
That unexpected splash of moisture sure looked like rain and felt like rain, but – alas – it still didn't measure on the National Weather Service's Downtown Sacramento monitoring equipment.
So, our epic dry spell continues.
"While the sprinkles this AM were certainly welcomed, Downtown Sac again missed out on measurable rain," tweeted the NWS Sacramento office on Wednesday. "It's now been 207 days since Downtown Sac has observed ≥0.01" of rain – an all-time record."
Downtown Sacramento's last measurable rain – more than 0.01 inch – fell March 19. The current dry spell eclipsed a rainless record of 194 days set back in 1880.
This is at least the 10th time Downtown Sacramento has experienced a dry spell of more than 143 days, according to the weather service. Besides 1880 and 2021, other dry spells lasting more than four months occurred in 1903 (174 days), 2002 (169 days), 1960 (162 days), 1932 (155 days), 1926 (147 days), 1924 (145 days), 1999 (144 days) and 1996 (143 days).
Not all of Sacramento has been bone-dry during our current streak. Monitoring equipment at Executive Airport did pick up 0.05 inch from an overnight thunderstorm that passed through Sept. 9-10.
When will we see "real" measurable rain? We're certainly overdue. Historically, October averages nearly an inch of precipitation.
"Some measurable rain may be in store late next week," tweeted the NWS Sacramento office. "Stay tuned ..."