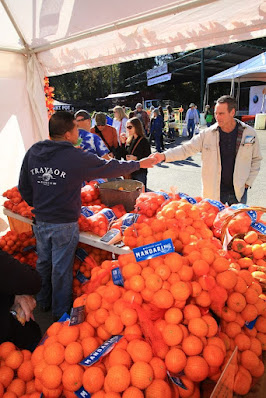 Fresh mandarins will be available
by the bag or box at the Mountain
Mandarin Festival this weekend.
(Photo courtesy Mountain
Mandarin Festival)
Popular event features tons of fresh citrus and more
After a year off, the Mandarin Festival is back!
Starting Friday, enjoy the three-day celebration of all things citrus at the 28th Mountain Mandarin Festival at the Gold Country Fairgrounds in Auburn.
"The 28th Mountain Mandarin Festival will return this year," the organizers posted on Facebook. "Still following CDC guidelines. Shop the craft vendors, enjoy entertainment, eat fabulous food and take home Placer County mandarins."
Patrons will be asked to wear face masks indoors. Remember to social distance. The 2019 festival attracted more than 30,000 attendees during its three-day run.
This year, there will be plenty of fruit to enjoy and free samples for everyone. Thousands of pounds of fresh Placer-grown mandarins will be sold during the event as well as countless mandarin-related products.
Scores of farmers and other vendors will be on hand, offering their locally grown fruit and other products. Snack on mandarin-flavored treats. Enjoy live music and performances at the main stage. Take part in special contests such as mandarin juicing.
"Thousands of filled orange mesh bags await and jams, jellies, infused olive oils, balsamic vinegar, barbecue sauces and body care products are all available for purchase," say the organizers. "Visitors are delighted to discover that the food vendors offer everything from mandarin pizza to mandarin glazed wings, mandarin doughnuts and mandarin pulled pork, just to name a few."
In addition, Placer County master gardeners will staff a booth on Saturday and Sunday. Get your 2022 Garden Guide and Calendar from them for just $10; for purchases of five or more the price drops to $9 each.
Festival hours are 11 a.m. to 5 p.m. Friday, Nov. 19; 9 a.m. to 5 pm. Saturday, Nov. 20; and 10 a.m. to 4 p.m. Sunday, Nov. 21.
General admission is $10; children age 11 and younger are admitted free. Seniors: $6. Friday discount admission: $5.
Gold Country Fairgrounds is located at 209 Fairgate Road, Auburn.
For tickets and details: www.mandarinfestival.com.