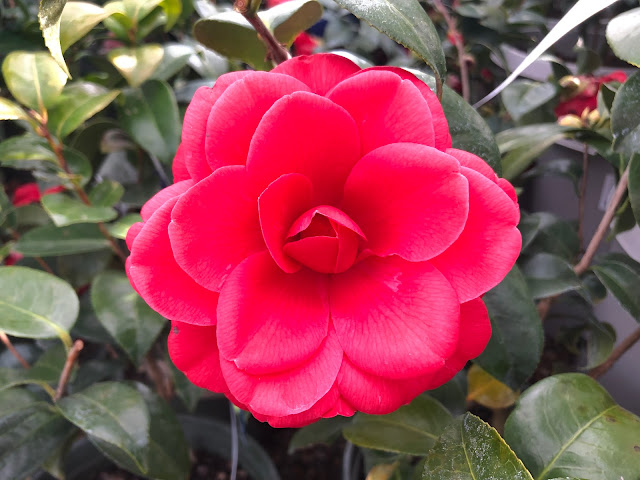 Camellia 'Tom Knudsen' has eye-catching red flowers. (Photo: Kathy Morrison)
A beloved Sacramento tradition returns soon. But with so much recent heat, will there still be enough camellias for the 98th annual Sacramento Camellia Show?

"I said, 'Stop! Don't bloom until March 5!' But my camellias aren't listening," said Julie Vierra, president of the Camellia Society of Sacramento . "In this heat, they open so quickly, then boom! They fall off. The wind doesn't help either."

But there will still be lots and lots of entries for the show, Vierra predicted. After missing a year to pandemic restrictions, there's just too much pent-up enthusiasm to keep camellia lovers away.

"Is there ever! We are so excited to see all our camellia friends," Vierra said. "We have judges coming from as far away as Los Angeles."

Record-warm days in early February have prompted many local camellias into full bloom, weeks ahead of their usual early March arrival. Sunday (Feb. 13) was the hottest-ever February day in Sacramento at 78 degrees.

Fortunately for camellia lovers, cooler days are forecast between now and the 2022 show, set for March 5 and 6. Instead of Memorial Auditorium (which hosted this event for decades), the Sacramento Elks Lodge on Riverside Boulevard in the Greenhaven/Pocket neighborhood will be the setting.

The Elks Lodge also hosted the 2020 camellia show, one of the last local public events before COVID-19 forced months of cancellations.

"We closed our show on Sunday, and (the following) Wednesday, the whole state closed down," Vierra recalled.

Although mask mandates are expected to be relaxed in early March, the Camellia Society will urge participants to practice precautions. The lodge's exhibit hall allows for lots of room for social distancing. Face masks will be required for entry.

Show hours are 3 to 6 p.m. March 5 and 10 a.m. to 5 p.m. March 6. Admission and parking are free; donations are welcome.

Besides hundreds of camellia blooms at their peak of beauty, the show also features many flower arrangements created by floral artists. Grown by Nuccio's Nurseries , more than 200 plants will be offered for sale.

The Elks Lodge is located at 6446 Riverside Blvd., Sacramento, where Florin Road dead-ends at Riverside Boulevard.

For more details: camelliasocietyofsacramento.org .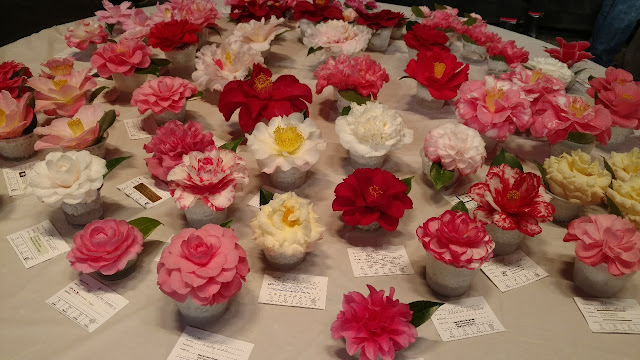 Trophy table at the 2020 Sacramento Camellia Show. (Photo: Debbie Arrington)