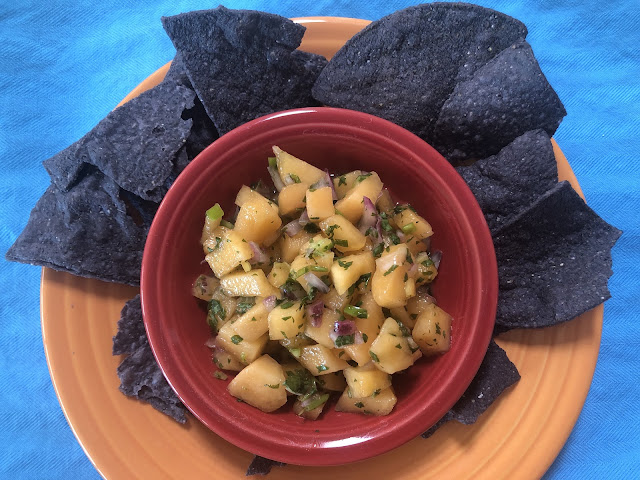 My garden this year blessed me with so many wonderful melons. Specifically large, fragrant Ambrosias -- the best muskmelon I've ever tasted -- and cute little Aspires, a sweet personal-size French Charentais-type melon.
(Gardening note: I highly recommend poultry manure as a overwintering mulch that can be worked into the soil in spring. My melons this year grew where my tomatoes were last year, and they've been healthy and productive all summer.)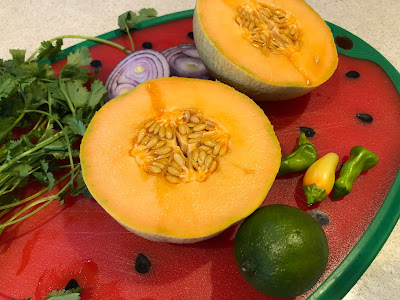 But this melon bounty has its stressful side: what to do with it all? I've given away several melons, and eaten melon for breakfast, lunch and dinner. And I still have more, threatening to rot before my eyes if I don't do something with them quickly,
Last week I had just finished canning nine pints of tomato salsa -- yes, during a heat wave -- and contemplated the fate of the leftover cilantro and peppers. Ah, the melon, of course! Melon salsa, which is uncooked, would be a refreshing change from all that heated stuff but still be flavorful.
We enjoyed the result at dinner, as a condiment with grilled fish, but the salsa would be perfect with grilled chicken, too. Or in a fish taco. Or alongside tortilla chips. (Blue chips make a nice color contrast.) Or anything else that benefits from melon's cool sweetness.
Use whatever chile peppers you like. I'd put all my green jalapeños into the earlier salsa, so I grabbed three small peppers from the garden: a small yellow jalapeño and two shishitos, then tossed in a bit of minced Anaheim pepper to round out the flavors.
Melon salsa
Make about 2-1/2 cups
Ingredients:
1 medium ripe muskmelon or honeydew melon, peeled, seeded and diced (generous 2 cups)
1/4 cup diced red onion
1/4 cup minced cilantro
2 tablespoons (or more, to taste) minced chile pepper, such as jalapeño, serrano, Anaheim, or a mix
2 tablespoons (or more) fresh lime juice
Sea salt, to taste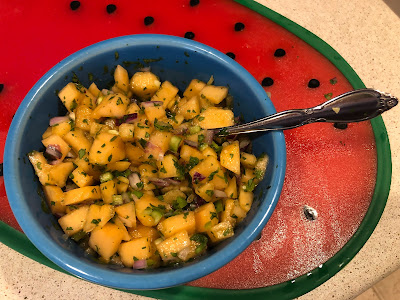 Instructions:
Place all the prepared vegetables in a medium bowl. Stir in the lime juice. Add 1/4 teaspoon salt and gently stir. Taste and adjust the seasonings and/or add more lime juice.
Best the day it is made. Serve immediately or cover and refrigerate until serving time. It will keep in the refrigerator, covered, for a day or two but flavors will not be as pronounced.