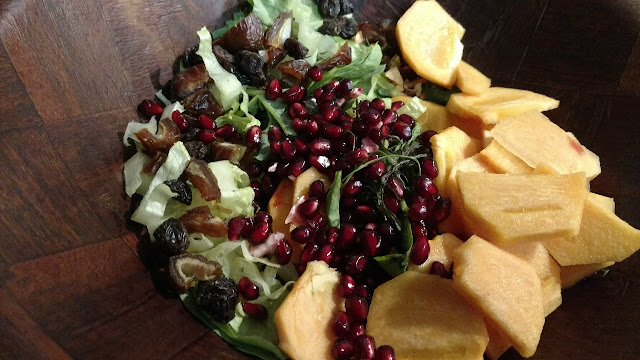 Give your Thanksgiving feast (or other holiday get-togethers) a distinctive sense of place as well as season with this very California salad.
Besides featuring such local favorites as fresh Fuyu persimmons and pomegranates, this salad is as colorful as it is tasty. California-grown dates, almonds and raisins add texture and contrast to the gem-bright fruit, set off by a bed of mixed baby greens fresh from the garden (or farmers market).
Pomegranate balsamic vinegar gives the dressing a fruity note, too.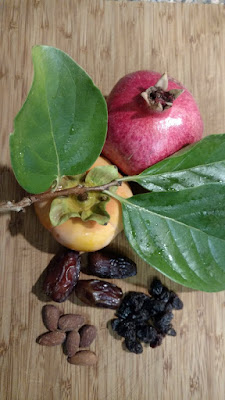 Expecting a crowd? This recipe can be easy doubled, tripled or more.
California persimmon salad
Makes 4 servings
1 large Fuyu persimmon, peeled and thinly sliced
1/3 cup pomegranate seeds
1/4 cup chopped dates
1/4 cup raisins
1/4 cup chopped almonds
3 cups fancy mixed baby greens, washed and roughly chopped
For vinaigrette:
3 tablespoons extra virgin olive oil
2 tablespoons balsamic vinegar (preferably pomegranate)
1/4 teaspoon sugar
Salt and pepper to taste
In a large bowl, put persimmon, pomegranate seeds, dates, raisins, almonds and greens. In a jar or small bowl, combine olive oil, balsamic vinegar, sugar, salt and pepper; shake or whisk until blended.
Drizzle vinaigrette over salad ingredients. Toss to coat. Serve.