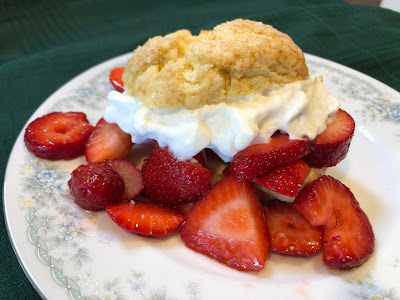 Is there any dessert that says spring better than strawberry shortcake? (Photos:

If you have extra hard-boiled eggs after today's festivities, you can make use of a few of them -- the yolks, anyway -- in the quintessential spring dessert: strawberry shortcake.

As puzzling as that may sound, it has an easy explanation: Two hard-boiled egg yolks go in with the other ingredients of the shortcake biscuit.

I'd read that bits of hard-boiled egg yolk in baked goods make for a more-tender result, and thought Easter would be the perfect time to try this. I found the perfect recipe for the biscuits on the bonappetit.com site -- it makes a lovely base for some gorgeous strawberries. Mix and handle the dough with a light touch so you don't defeat the goal of tender shortcakes.

The unused cooked whites, by the way, when chopped or sliced make a great addition to salads, especially spinach salad.

A note about strawberries: Buy berries that smell like strawberries for shortcake! If they're good fresh ones, with a heady strawberry fragrance, I hate to gunk them up with too much sugar, cornstarch, etc. So my strawberry topping here is very light. The more involved (cooked) bonappetit.com topping can be found here .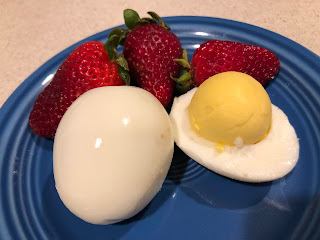 Hard-boiled eggs play well with strawberries in shortcake.
Strawberry shortcake
Adapted from bonappetit.com
Serves 6

Shortcake ingredients:

2 hard-boiled eggs, cooled and peeled, whites removed for other use
1 1/3 cups all purpose flour
3 tablespoons fine cornmeal
1 tablespoon baking powder
1/4 teaspoon kosher salt
3 tablespoons granulated sugar
6 tablespoons chilled unsalted butter, cut into small pieces
2/3 cup plus 2 tablespoons heavy cream, divided
Coarse sugar, for sprinkling

Kathy's strawberry topping :

3 baskets ripe strawberries, washed and hulled
3 teaspoons fresh lemon juice
2 to 3 tablespoons granulated sugar
1 1/2 teaspoons fruity liqueur, such as Kirschwasser or Framboise, optional

For serving:
Sweetened whipped cream or the topping of your choice

Shortcake instructions: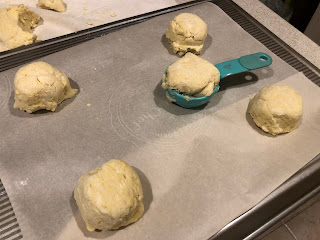 Scoop biscuit dough, don't roll it out -- that keeps it tender.
In a food processor, pulse the cooked egg yolks, flour, cornmeal, baking powder, salt and sugar, just to combine. Add the butter and pulse just enough to break the butter down to pea-size pieces. Slowly add the 2/3 cup cream, pulse 2 or 3 times to just incorporate it. (Alternatively, mix the dough in a bowl with a pastry blend or by criss-crossing two knives.)

Dump the dough out onto a floured pastry cloth or other floured work surface, and gently fold it onto itself just enough to get rid of any dry bits.

Cover a baking sheet with parchment paper. Using a 1/4 measuring cup or large ice cream scoop, scoop up 6 balls of dough and place them on the parchment paper. Do not flatten the mounds. Cover the pan with wax paper or plastic wrap and chill it about 20 minutes but no more than 30, until the dough is cold.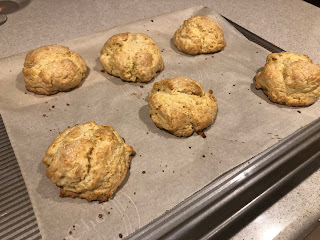 Baked and ready for serving after they cool a little bit.
Heat the oven to 350 degrees. Brush the tops of the dough mounds with the remaining cream and sprinkle on the coarse sugar. Bake 25-30 minutes until golden and sides are firm to the touch. Let cool. (If making ahead, up to 24 hours before serving, store the biscuits at room temperature and reheat gently before assembling shortcakes.)

Strawberry topping instructions :

Thickly slice about 1/3 of the strawberries and place in a non-reactive bowl. Stir in the lemon juice and 2 tablespoons sugar (a little more if the berries aren't super-sweet), and let the berries macerate at room temperature for about 20 minutes.

If using the liqueur, stir it into the macerated berries. Then cut the remaining berries into quarters or slices and stir them into the macerated berries.

To assemble:

Split the biscuits and place the bottom halves on dessert plates or in bowls. Spoon some of the berries over each biscuit, then add some whipped cream and cover with the biscuit top. Serve immediately.