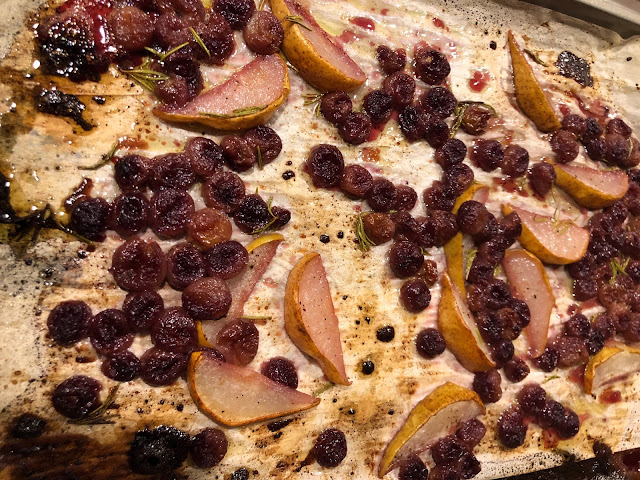 When table grapes show up in the stores and at the markets, I usually pass them up. They're nice for an occasional snack, but if I want to indulge in summer fruit, plums and peaches and nectarines are still in season, and all those are so versatile. (Torte! Cobbler! Salsa!)

Grapes by comparison seemed so limited: Good in fruit salad, and ... what else?

But I stand corrected. In the middle of this last heat wave, I turned my oven up high and discovered a wonderful thing: Grapes are amazing when they're roasted. Even better, they work in savory dishes as well as sweet ones.

I couldn't decide which way to go in this recipe test, so I divided up a 2-pound-plus bag of red seedless grapes and tried both sweet and savory. The recipes below each are written for the full amount, however. Each serves 4.

Do use fresh herbs if you can; I hope you have some growing in your garden.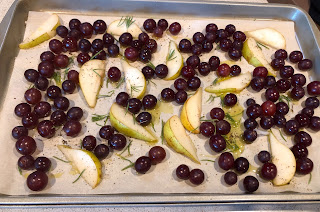 Grapes roasted with pears and rosemary
Inspired by several sources
Serves 4

Ingredients :

2 to 3 pounds seedless grapes, any color
2 firm, almost ripe pears (Bartlett preferred)
1 1/2 tablespoons fresh rosemary leaves, chopped
2 tablespoons olive oil
Sea salt
Freshly ground black pepper

Instructions :

Position two oven racks in the middle of the oven, so there is the same amount of space from the top to the upper rack as from the bottom to the lower rack. Preheat oven to 425 degrees.

Cover two sheet pans with aluminum foil or parchment paper.

Remove the grapes from the stems and place in a large bowl. Pour the olive oil over the grapes, and then add the rosemary, plus salt and freshly ground pepper to taste. Stir so grapes are equally coated.

Core and slice the pears, and scatter the slices over the two prepared pans. Divide the grapes between the two pans, scraping out onto the pans any oil and herbs left behind.

Roast the grapes and pears 30 minutes, switching the pans between the upper and lower racks after 15 minutes.

Remove the pans and let the fruit cool for only about 5 minutes. Scrape the fruit and all the juices into a bowl.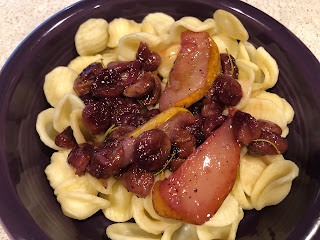 From here you can use it to:

-- Top bowls of pasta (or stir it in)

-- Use it as a condiment with cooked chicken or pork

-- Top toasted baguette slices for crostini

-- Spoon it over soft cheese for an appetizer with crackers


Now, here's a sweeter way to roast grapes.

Grapes roasted with thyme and wine
Adapted from a recipe by Yotam Ottolenghi
Serves 4

Ingredients:

2 to 3 pounds seedless grapes, removed from the stem (red or black grapes preferred)

4 tablespoons sweet dessert wine such as port, Madeira or muscat

2 tablespoons honey

1 teaspoon fresh thyme leaves (lemon thyme's a good choice if you have it)

2 tablespoons brown sugar
Zest from 1 lemon

2 tablespoons fresh lemon juice

Instructions:

Heat oven to 425 degrees. Combine all the ingredients in a bowl, and stir well.

Pour the mixture into a high-sided 9-by-13- inch ceramic baking dish (roughly 2 1/2-quart size).

Bake for 40-45 minutes, stirring a few times, until the grapes have caramelized and the liquid has become syrupy.

Allow grapes to cool a bit before using, or chill them thoroughly, depending on what you plan to use them for.

Some ideas:

-- Top good vanilla ice cream or gelato

-- Spoon over slices of pound cake or cheesecake

-- Stir into yogurt for a brunch dish

-- Serve by themselves as a sophisticated poached fruit dessert; a shortbread cookie or slice of good cheese on the side would be a nice touch.