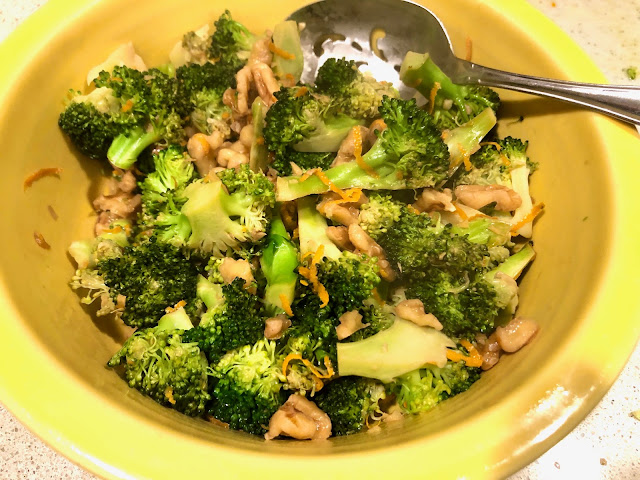 Broccoli can be bright and fresh, really. (Photos: Kathy Morrison)

Oranges and other citrus are a godsend in winter, when we need a dash of brightness, both in color and flavor. They're great in baked goods and salads, of course, but also in vegetable dishes, where the orange adds highlights without bumping up the calorie count.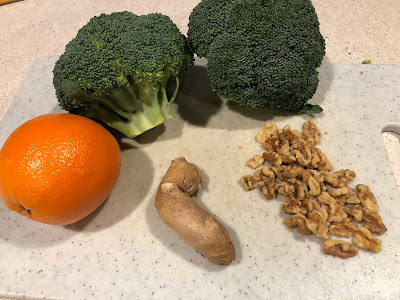 This broccoli dish comes from a favorite source, "The Sunset Cookbook," the big one with the orange cover, published in 2010. The editors credit a reader, Laura A. Flynn, for creating this side, which speaks so much of California cooking: a few fresh seasonal ingredients, a little Asian influence and a light hand in the cooking. It's ready in less than 10 minutes once the ingredients are prepped. Keep the broccoli pieces fairly small so they cook quickly and the broccoli remains bright green.

Orange and walnut broccoli
Adapted from "The Sunset Cookbook"
Serves 4 to 5

Ingredients:

1 large navel orange
1 tablespoon vegetable oil
1/2 cup chopped walnuts
1/2 teaspoon minced fresh ginger
1 tablespoon soy sauce
5 cups (12 ounces) broccoli florets, cut in bite-size pieces (some stem is OK, but not wide pieces)
Black pepper, optional

Instructions: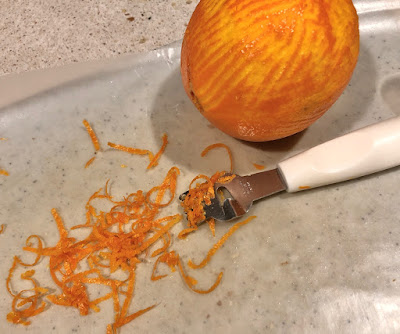 Zest the orange using a citrus zester (see photo) or grater, being careful not to grate the white pith as well. A Microplane zester can be used, but the orange zest will be much smaller -- the larger strips are ideally what you want in this dish.

Juice the orange and reserve 1/4 cup juice; save the rest for another use.

Heat oil in a wok or slope-sided sauté pan over medium-high heat. Stir-fry the zest, walnuts and ginger just until the edges of the zest ares lightly brown, about 2 minutes.

Stir in the 1/2 cup orange juice and the soy sauce. Add the broccoli florets and cook, stirring occasionally, until the florets are just tender, about 5 minutes.

Season with freshly ground pepper, if desired, and serve.