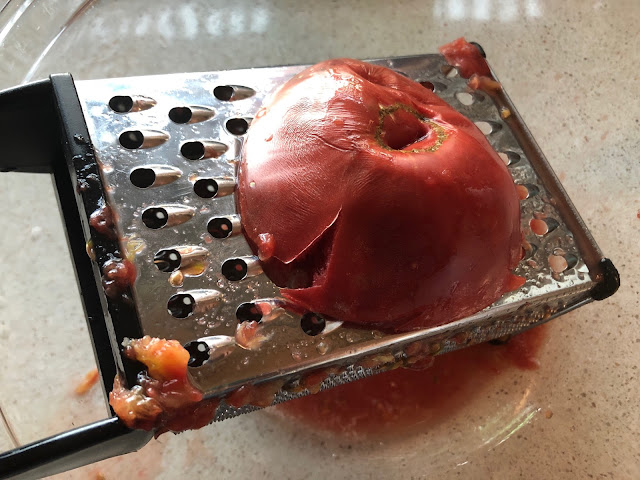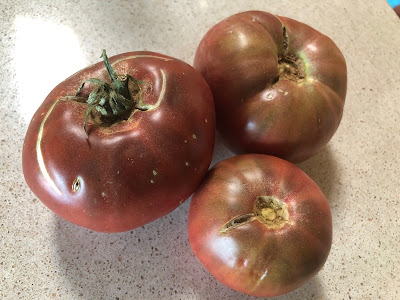 August is when I start looking for other ways to use my tomato bounty. I've had several BLTs and caprese salads, made cobbler, and I've doused grilled salmon in tomato-basil vinaigrette. I'll get to my usual tomato canning later this month.
In between, I've found a great way to use tomatoes in an easy side dish. This multigrain combo can easily be adapted to whatever flavor profile you want, to accompany tacos, chicken tikka or beef kabobs. A large-hole cheese grater is the only fancy equipment you need, and you don't have to strain out the seeds -- they become part of the texture of the dish.
Note that the grains can be varied, but I would keep basmati or jasmine rice as the main one. The others are up to you and your pantry contents.
Four-Grain and Tomato Pilaf
Adapted from "You Say Tomato" by Joanne Weir
Serves 6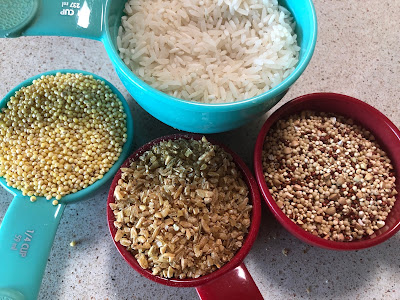 Ingredients:
3 medium ripe red tomatoes
1 tablespoon canola or vegetable oil
3/4 cup basmati or jasmine rice
1/4 cup quinoa or quinoa blend
1/4 cup millet or bulgur wheat
1/4 cup freekah or amaranth
1/2 teaspoon or more fresh thyme, plus more for garnish, or 1/2 teaspoon ground cumin
1 or 2 shallots, minced
Optional addition: 4-ounce can chopped chilies, drained
1 cup vegetable or chicken stock
Coarse salt and freshly ground black pepper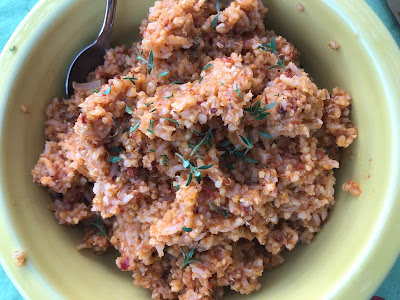 Instructions:
Cut the tomatoes in half. Cup each tomato half in your hand, cut side out, and, using the large holes of a grater, grate the tomato into a bowl. Discard or compost the skins.
Heat the oil in a large saucepan over medium heat. Add the rice and your selection of other grains (the four together should total 1 1/2 cups), and the thyme or cumin and shallots. Stir until the grains are coated and hot, 1 to 2 minutes.
Increase the heat to high and add the stock, 1 1/2 cups water, the tomato juice and pulp, the chilies if using, 3/4 teaspoon salt, and pepper to taste. Bring to a boil, reduce the heat to low, and simmer, covered, until the grains are tender and the liquid is absorbed, about 25 minutes.
Fluff with a fork. Correct the seasonings. Serve, garnished with more thyme or garnish of your choice.