This rustic fig cake is good anytime. (Photos: Debbie Arrington)
Figs are a late-summer treasure. In Northern California, they reach their peak of ripeness in August and September.

How do you tell when a fig is truly ripe? Color is a clue; black mission figs live up to their name with deep black-purple skins. But green and yellow varieties keep their light color.

On the tree, tap the fruit lightly with your finger. If it gives, it's ready to pick. If it's rigidly firm, wait awhile.

At the farmers market, look for figs that are soft (but not mushy) and yielding to the touch. A ripe fig looks like it's beginning to crack a little or developing wrinkles.

As for what to do with a dozen (or so) ripe figs? This rustic cake is a delicious showcase, great with coffee or tea in the morning or topped with whipped cream or ice cream for dessert.
This version was adapted from a recipe in the New York Times, inspired by a bountiful Sonoma fig tree.
Another reminder: Good things grow in California.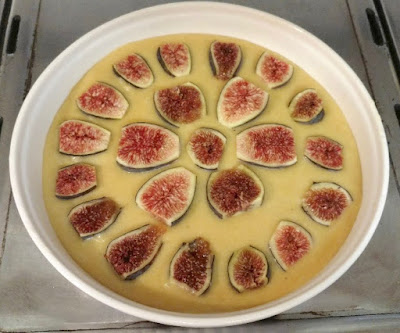 Arrange figs cut side up over almond batter.

Fig almond cake
Adapted from the New York Times
Makes 6 servings

Ingredients:
3 eggs
1/4 cup sugar
4 tablespoons butter (1/2 stick), melted and cooled
2 tablespoons honey
1/2 teaspoon vanilla or almond extract
3/4 cup almond flour
1/4 cup all-purpose flour
1teaspoon baking powder
1/8 teaspoon salt
12 to 14 fresh figs, de-stemmed and halved
2 tablespoons Demerara or plain sugar
Butter to grease the pan

Instructions:
Preheat oven to 375 degrees F. Butter a 9- to 10-inch pie or tart pan; set aside.

In a mixing bowl, beat eggs. Add 1/4 cup sugar, melted butter and vanilla or almond extract.

In another bowl, sift together almond flour, flour, baking powder and salt.

Add dry mixture to egg mixture and stir until batter is mixed, about 1 minute.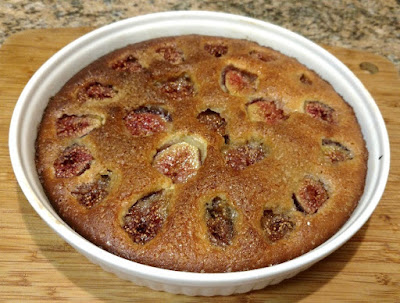 This cake bakes to golden brown in about 30 minutes.
Pour batter into prepared pan. Arrange fig halves in batter with cut side up. Sprinkle sugar over the top.

Bake 30 to 35 minutes or until golden and toothpick inserted near the center comes out dry.

Let cool before serving.