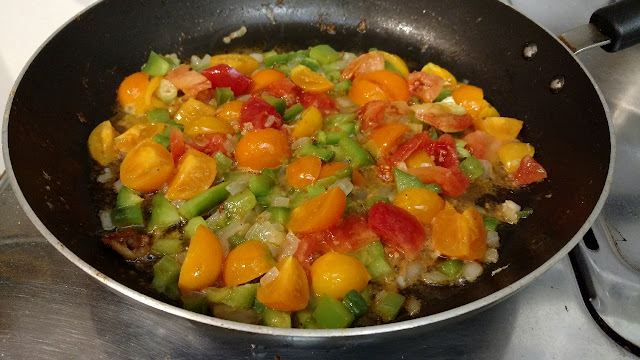 Full of flavor and bright colors, Veracruz sauce tastes and looks like a late summer fiesta.
Mixing yellow, orange and red tomatoes with green peppers makes otherwise plain-looking fish fillets jump off the plate. All red tomatoes work, too; with the green peppers, the combination echoes the flag of Mexico.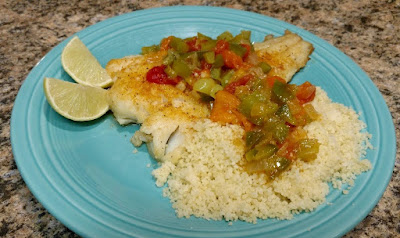 Inspired by the food of the Mexican coastal state of Veracruz, this dish is a variation of traditional Pescado Veracruz, which bakes the fish (often whole) in the sauce in the oven.
When it's too hot to turn on the oven, substitute fish fillets sautéed on top of the stove, then smother them with the flavorful sauce. Use a firm, quick-cooking white fish such as cod, snapper or tilapia.
As for peppers, green bell peppers or mild Anaheim or Hatch peppers (or a combination of both) work well. Or add a chopped jalapeño to kick up the heat.
Serve with rice or couscous, topped with extra sauce.
Pescado Veracruz
(Fish with tomato-pepper sauce)
Makes 2 to 3 servings
Ingredients:
1 pound firm white fish fillet such as cod, snapper or tilapia
¼ cup flour
Salt and pepper
2 tablespoons butter
½ cup green pepper, chopped
1/3 cup yellow onion, chopped
1 cup tomatoes, chopped
1/4 cup white wine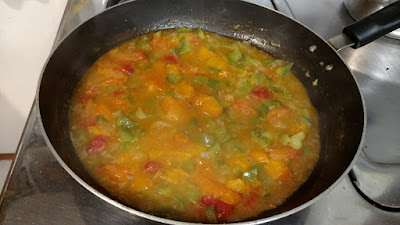 Veracruz sauce is finished and ready to serve.

Instructions:
Pat dry fish fillets. Mix flour with salt and pepper to taste. Dust fillets with flour mixture.
In a large skillet, melt butter. Sauté fish fillets over medium high heat, turning once, until fish is golden and flakes apart, about 5 to 6 minutes per side or a little more depending on the thickness of the fish.

While the fish is cooking, add the chopped peppers and onions to the pan and let them sauté alongside the fish.

When the fish is ready, remove from the pan with a slotted spatula and transfer to a plate; keep warm.

Add tomatoes to the onions and peppers in the pan along with a little more butter if necessary. Over medium heat, sauté tomato mixture, stirring often, until tomatoes start to break down, about 3 minutes. Add wine, stirring to pick up any brown bits stuck to bottom of pan. Turn up heat to medium high and bring mixture to a high simmer. Stirring often, let mixture cook down until thickened, about 2 to 3 minutes.

Spoon sauce over fish and accompanying rice or couscous. Serve immediately.