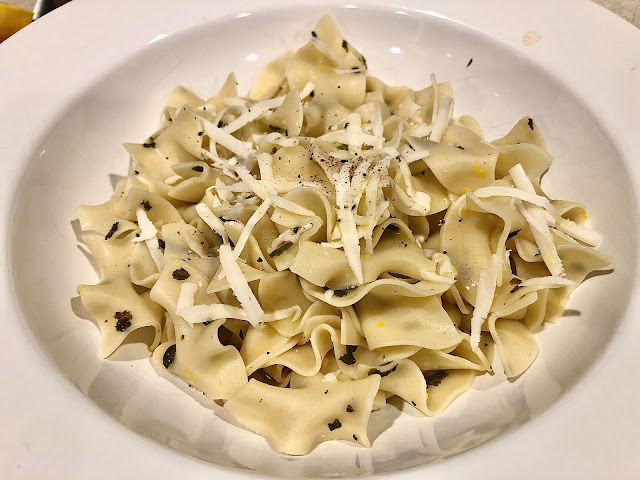 It's pasta that's almost soup, and it's very lemony. (Photos: Kathy Morrison)
Honoring Meyer lemon season means more than baking, as fun as that is. I got it into my head the other day that I wanted to cook something with lemons and pasta, and started digging around for ideas.
A lot of the recipes I found use heavy cream as a base for the sauce, but that would upstage a Meyer, which is much less tart than Eureka or Lisbon lemons.
This pasta dish, adapted from a New York Times recipe, has broth and a mix of herbs for the sauce base, along with the lemon zest and juice. The lemon flavor shines through beautifully.
As accompaniment, I made a simple green salad topped with a few pieces of shrimp that were quickly sautéed in lemon juice and olive oil. It made a full meal for two of us, with leftovers of the pasta, but the protein alongside is completely optional. Serve the pasta in big bowls, with soup spoons to scoop up the noodles and broth. It's not quite soup, though it could be if you doubled the broth.
Serves 2 to 4
Ingredients:
2 to 3 cups low-sodium chicken or vegetable broth (try to avoid a vegetable broth that's tomato-y)
1 or 2 garlic cloves, peeled and slightly smashed
Grated zest of 2 small Meyer lemons, or 1 large
1 tablespoon Meyer lemon juice, plus more to taste
Coarse sea salt or kosher salt
8 ounces short pasta, or pappardelle broken into pieces, or "no-yolk" noodles (my package called them "dumplings")
3 tablespoons chopped mint leaves
2 tablespoons chopped marjoram leaves
1/4 teaspoon fennel seeds, crushed, or 1 tablespoon chopped fresh fennel fronds or tarragon
Extra-virgin olive oil
Freshly coarse-ground black pepper
Mild cheese for grating or crumbling: Mexican cojita, Parmesan or feta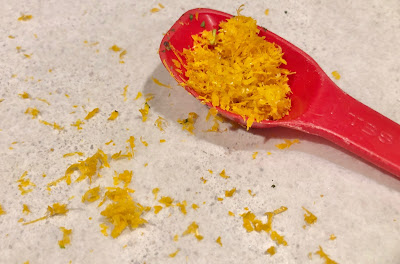 Is this enough zest? Probably, but it doesn't hurt to have a little

extra, maybe to sprinkle on the finished dish.




Instructions:
Pour the broth into a small saucepan. Add the garlic clove(s) and bring broth to a boil. Over medium-high heat, reduce the broth to about half. Remove the garlic, chop it and set it aside. Take the pan off the heat and stir in the lemon zest and juice. Season to taste -- aim for a well-seasoned broth, since this is the sauce base. Keep the broth warm over very low heat.
Meanwhile, bring a large pot of water to boil. Salt the water well and add the pasta. After 5 minutes, scoop out a 1/2 cup or so of pasta water and set it aside. Cook the pasta until al dente -- this was just 5 minutes anyway for my noodles.
Drain the pasta, shake it, then return it to the pot. Put the pot over low heat and add the lemony broth. Stir in the chopped garlic, the mint, marjoram and fennel seeds (or chopped fennel fronds or tarragon), and add just a touch of olive oil. The pasta should be well coated and lemony -- it will soak up some of the broth in the process.
Taste and add some freshly ground black pepper and, if desired, more lemon juice and salt.
Ladle the pasta, with some of the broth, into warmed bowls. Grate or crumble some cheese (but not too much) over the top, sprinkle with a bit more olive oil and grind additional black pepper as a final touch.
Serve with slices of warmed baguette.