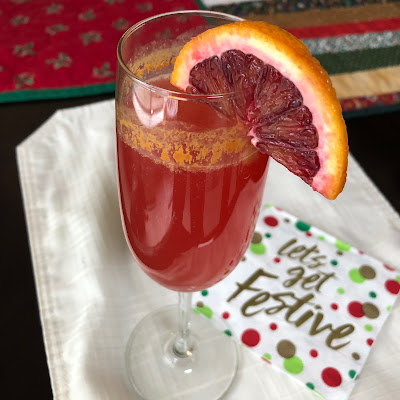 How pretty is this? Blood orange juice is a special
addition to this mimosa. Pulp in the juice creates
the decorative ring when the sparkling wine
is added. (Photos: Kathy Morrison)
More gray, more rain. Little things help brighten the winter days. If you're hosting a brunch, or just fixing breakfast for two, a mimosa is a lovely addition to the menu.
I took the citrus element one step further by using blood orange juice. Blood oranges are a little smaller and a littler tarter than navel oranges, but they produce gorgeous reddish-purple juice and the prettiest beverage this side of a Shirley Temple. And make the version with sparkling cider if you want a nonalcoholic cocktail; the simple syrup and orange liqueur are both optional with that one.
Make a simple syrup quickly to lightly sweeten the tartness: Mix 2 tablespoons granulated sugar and 2 tablespoons tap water in a Pyrex measuring cup. Microwave for 1 minute on HIGH. This produces simple syrup for several servings of this drink.
Blood orange mimosa
Makes 1 serving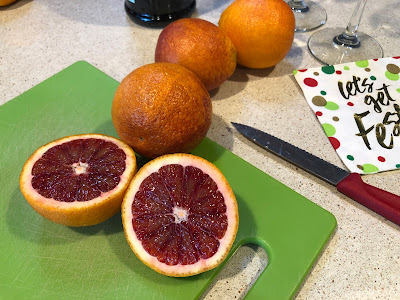 The pulp of blood oranges varies from deep red-purple,

as above, to mostly orange with just a hint of red. Look

for fruit with at least some red on the skin.




Ingredients:
Juice of 1/2 a blood orange, about 1-1/2 tablespoons juice
1/2 teaspoon simple syrup (see above)
1/2 teaspoon orange liqueur, such as Cointreau or Grand Marnier (optional)
Chilled Prosecco or another white or rosé sparkling wine, or nonalcoholic sparkling cider
Blood orange slice, for garnish
Instructions:
Strain the blood orange juice if desired. A regular wire mesh strainer will leave some pulp, as in the photo above; a fine mesh strainer will remove nearly all the pulp. (But don't strain it into the sink, as I did the first time!)
Pour the juice into a fluted glass. Stir in the simple syrup and, if using, the orange liqueur. Fill the rest of the glass with the sparking wine or cider. Add the garnish, and enjoy. Happy New Year!