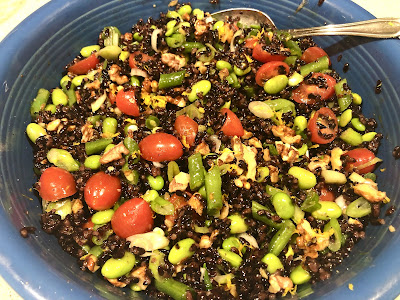 Summer salads are so easy: Tomatoes right off the vine, a bit of basil, maybe some balsamic and any lettuce that looks fresh.
Winter: Another story. Spinach is fine, kale still a hard sell. Is there a salad out there I can get excited about before tomato season?
So there I was, with a whole bag of gifted Meyer lemons (thanks, Beverly!), searching for interesting recipes to use that precious citrus. And in between all the scones, bars and cakes, the Epicurious site tossed at me Black Rice Salad with Lemon Vinaigrette.
Intrigued by the colorful photo, I dove in. What a wealth of healthy ingredients! Edamame, grape tomatoes (the only kind I'll buy in winter), green beans, scallions, walnuts and that gorgeous rice. Plus the Meyer lemon vinaigrette. I had to try it.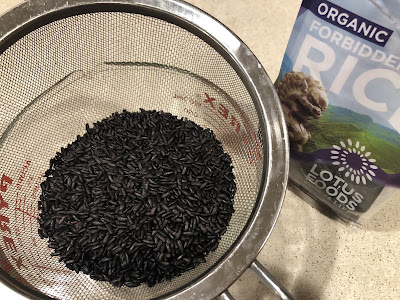 The key, of course, was finding the rice, but that was a short hunt: Lotus Foods Forbidden Rice was right there in the supermarket, next to the more common varieties. Like wild rice, it takes a bit longer to cook, but I shortened the time by making it in my mini InstantPot (directions below).
The rest of the ingredients came together easily; the walnuts are the only other element that requires precooking -- or toasting, in this case. Much of the prep can be done way before serving.
The salad was a hit at dinner, the floral lemon flavor really coming through the mix of crunchy veggies and nutty rice. I served this with grilled chicken thighs, but it could easily be a main course salad. Add cooked chicken to the salad for an extra boost of protein, if you like. Serve flatbread or grilled naan alongside. Leftovers make a great lunch. This would be an excellent potluck dish, too, if we ever get back to potlucks.
Black Rice Salad With Meyer Lemon Vinaigrette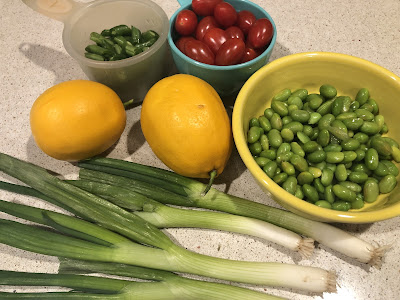 Serves 6 to 8 as a side dish
Adapted from epicurious.com
Ingredients:
1 cup black rice (measured before cooking)
Kosher salt
1/2 cup walnut meats
1 large Meyer lemon, zested and juiced (about 1/4 cup juice)
2 tablespoons white wine vinegar or champagne vinegar
1 tablespoon agave syrup or honey
1/4 cup extra virgin olive oil
4 scallions, thinly sliced
1 cup frozen shelled edamame, thawed
1 cup grape tomatoes, halved
1/2 to 1 cup thinly sliced tender green beans (blanch briefly before slicing if the beans are quite thick)
Freshly ground black pepper
Instructions:
Rinse the rice in a mesh sieve three times, or until the water runs mostly clear. (I saved the water and used it in the garden,)
Cook rice on the stove according to package directions under tender but not mushy. Alternatively, place 1 cup rice, 1 cup water and 1/4 teaspoon salt in Instant Pot inner pot. Pressure cook on High/Normal for 17 minutes. Let pressure release naturally for 10 minutes, then quick release.
Drain rice if necessary. Spread rice on a large plate or rimmed baking sheet to cool.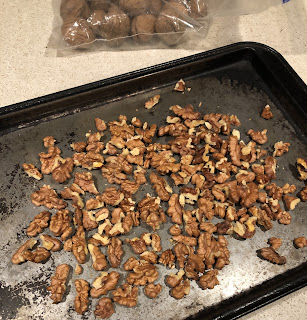 Heat oven to 350 degrees. Spread walnut meats in a single layer on another baking sheet. Toast in oven, stirring at least once, 8 minutes, until fragrant. (Nuts can burn quickly, so don't leave the kitchen while these are in the oven.) Let nuts cool, then chop to desired size. (You might leave a few unchopped for garnish.)
In a small bowl or measuring cup, whisk together the lemon juice, vinegar and agave. If desired, add a large pinch of the reserved lemon zest. Drizzle in the oil, whisking constantly, until it all is incorporated. Season vinaigrette with a bit of salt.
In a large serving bowl, combine the cooled rice, chopped walnuts, scallions, edamame, tomato halves and the sliced green beans. Pour about half the vinaigrette over the salad, stirring. Season with salt and fresh pepper. Add more vinaigrette as needed until the salad is coated but not gloppy; you may not need all the vinaigrette.
Sprinkle any reserved walnuts and some additional zest on top of the salad and serve. This keeps well at room temperature if you want to make it an hour or so ahead of serving.
(Note: Regular tart lemons can be used in this recipe, too, if Meyers aren't available. Use 3 tablespoons juice and a small pinch of zest.)