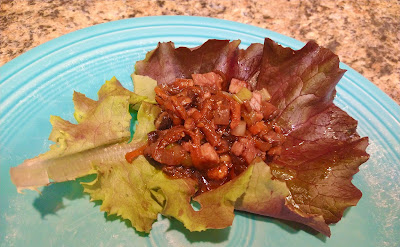 Spiced chicken or pork makes a delicious filling
for lettuce wraps. (Photos: Debbie Arrington)
Lettuce wraps have been part of Chinese cuisine for centuries. Think of a lettuce wrap as a burrito with a leaf instead of a tortilla. They're fun food that's also low in carbohydrates.

Any large-leaf lettuce will do, although you may need to double-layer leaves for a better wrap. Iceberg, Boston bibb lettuce and romaine are common wrappers because their leaves are naturally sturdy.

For this recipe, I used home-grown Red Sails loose leaf lettuce. It was as delicious as it was pretty (but extra napkins came in handy).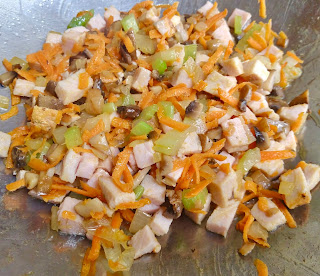 Meat and veggies cook quickly in a wok.
Lettuce wraps with spicy pork or chicken filling
Makes 4 appetizer servings or 2 main dish servings
Ingredients:
2 tablespoons oil
1 clove garlic, minced
1/3 cup onion, diced
1/3 cup celery, diced
2/3 cup mushrooms, diced
½ cup carrots, grated
1 cup cooked pork or chicken, diced
2 tablespoons dry white wine
1 tablespoon soy sauce
1 teaspoon cornstarch
1 teaspoon sugar
½ teaspoon ginger
½ teaspoon Chinese five-spice powder*
½ to 1 teaspoon red pepper flakes
Lettuce leaves
Hoisin sauce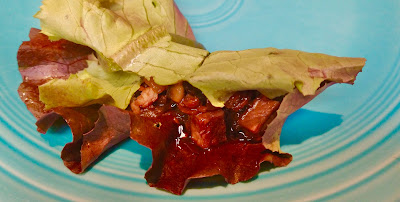 Homegrown Red Sails lettuce makes a colorful, delicious
wrap.
Instructions:
In a wok or large heavy skillet, heat oil. Add garlic and saute until slightly golden, stirring often. Add onion and celery; stir fry until vegetables start to turn soft, about 2 minutes. Add mushrooms; stir fry until mushrooms soften and start to release their juices, about 3 to 4 minutes. Add carrots, stir fry to blend; about 1 minute.
Add chopped cooked pork or chicken, stirring to blend. Add wine; stir and let simmer, about 2 minutes.
Blend soy sauce with cornstarch, sugar, ginger and five-spice powder. Stir this soy-cornstarch mix into liquid in the pan. Add red pepper flakes to taste. Stir fry until sauce become translucent and coats meat and vegetables, about 1 to 2 minutes.
Transfer to bowl and keep warm.
To serve: Gently separate lettuce into large leaves. Smear about 1 teaspoon of hoisin sauce on inside of leaf. Place a heaping tablespoon of filling on top and roll leaf around filling like a burrito, folding one end to seal the filling inside. Eat immediately, with plenty of napkins.
*Chinese five-spice powder is a traditional blend of cinnamon, star anise, cloves, ginger and pepper; use sparingly.