"Plants are the new pets," says Lawrence Groves. "My end goal is to keep the store as full as I possibly can."
Photo by Debbie Arrington
Lawrence Groves and Ricky Barbosa opened their plant store in the heart of downtown Davis, but it took TikTok to put them on the map.
"I grew up in this area," Groves says. "When we decided to open our shop, we wanted to do it here because there was nothing like it in Davis."
The Growing Groves, a play on Groves' green thumb, inhabits a second-floor space on E Street that once housed a barefoot yoga studio, an herbalist shop and the offbeat gift shop Discoveries. The shop opened in April, reaching out to young plant enthusiasts in a college town full of plant lovers.
Unexpectedly, a break-in led to their breakout moment as TikTok influencers and small-business stars.
A TikTok of security footage capturing a thief stealing one of the shop's plants went viral. That's when Groves and Barbosa "saw the value of TikTok and shifted their focus to building an account for their brand," according to Mariah Hallacy, representing TikTok. "Now the brand's account has over 3.6k followers (https://www.tiktok.com/@thegrowinggroves) and Larry and Ricky have been able to leverage their newfound TikTok fame into substantial business success, all while supporting their mission to create an environment where avid plant enthusiasts and new plant parents can feel comfortable, confident, and supported along their individual plant journeys."
The Growing Groves is one of the small businesses spotlighted by TikTok before Small Business Saturday, Nov. 26. TikTok teamed with American Express to offer tools (including a #ShopSmall Accelerator) and support for small business owners such as Groves and Barbosa to reach Gen Z shoppers. According to research, two out of three Gen Z shoppers say they've shopped from small businesses that appeared in their "For You" feed.
Millennials like TikTok, too; Groves is 26, Barbosa is 32. ("My house is absolutely insane, it's a jungle," says Groves.)
"We do a really great job, but it takes time for people to find out about us," Groves adds. "(TikTok's support) has been a really cool experience. We're in a college town. We don't do much print advertising because our social media has such a pull."
Spotlighting new plants each week, Barbosa stars in most of the shop's TikTok videos, appealing to wannabe plant parents as well as collectors.
"Plants are the new pets," says Groves. "My end goal is to keep the store as full as I possibly can."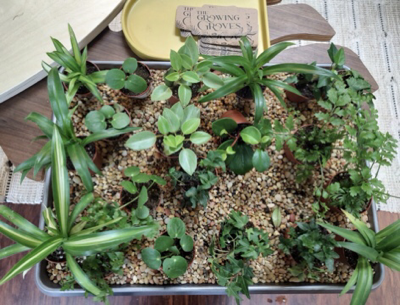 Groves, who majored in environmental science at University of Washington, worked in the nursery industry for several years before opening the plant shop.
"I had a 9-to-5 (job) and hated every second of it," he says. "I wanted to make my own store and do whatever I want."
His touch is on everything in The Growing Groves, from the curated young plants for beginners to the unique houseplant accessories. "It's constantly evolving," Groves says of his store. "I'm very picky about everything in the store. … I'm a maximalist. I want to fit in everything everywhere. It makes it more exciting."
With new stock arriving weekly from local growers, The Growing Groves carries a huge selection of affordable houseplants, most priced under $20. Groves loves hoyas and makes sure there's a good group of these indoor bloomers. Carnivorous plants are especially hot right now, as are alocasias and anything with variegation.
"Plants shouldn't be priced so high that they're only for the elites," Groves says. "We want to be able to share our love of plants with everyone. … Plants are therapeutic. They make you feel good. They should be accessible to everyone."
The Growing Groves is located at 219 E St., Suite A, in downtown Davis. It's open from 11 a.m to 6 p.m. daily.
For more: https://thegrowinggroves.com/ or 530-564-4567.