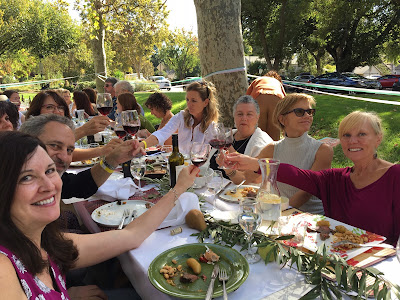 The Village Feast in 2018 took place in Davis
Central Park. (Photo courtesy LDEI Sacramento)
How do you assure that there will be future farmers? And that kids will learn to love their veggies?
One farm-to-fork event tackles both those goals with all proceeds supporting food and agriculture education.
After two years of virtual dining and bidding, the Village Feast is back in person – and twice as nice.
Tickets are now on sale for the 2022 Village Feast, to be held Oct. 16 at locations of either side of the Sacramento River: Mulvaney's B&L in Midtown Sacramento and Great Bear Vineyards in Davis.
"Annually, The Village Feast celebrates the Sacramento region's Farm-to-Fork season, where the community gathers to enjoy and honor the bounty of local farmers," say its organizers. "After two years as an online event, it returns to its origin as a shared, in-person community experience – this year at two regional venues."
A farm-to-fork fixture in Davis, the Village Feast is the major fundraiser for two food-centric organizations: The Sacramento chapter of Les Dames d'Escoffier International (LDEI) and Davis Farm to School. (Full disclosure: This reporter is a Dame.)
LDEI Sacramento (a philanthropic organization of female leaders in the areas of food, fine beverage and hospitality) and Davis Farm to School paired up for this event because of their shared visions and values, say the partners.
LDEI Sacramento has donated more than $60,000 to scholarships and grants to women interested in careers in food, beverages and farming, thanks mostly to the success of the Village Feast. Davis Farm to School provides garden grants, organizes farm field trips, and supports farm-fresh food in school meals.
Inspired by local crops and farm-to-fork pride, the Village Feast follows harvest traditions from a place with a similar climate: Provence, France. California and Southern France share a Mediterranean climate and an abundance of tomatoes, olives, beans, wine and garlic.
By 2019, the Village Feast had grown to more than 350 guests at a sit-down, midday dinner in the middle of Davis Central Park. With grilled lamb and smoked tri-tip as the main courses, the tables were arranged in a giant "U," so all patrons sat at the "same table." Featuring trips to Provence and one-of-a-kind restaurant experiences, a gigantic silent auction brought in donations.
Due to Covid precautions, the Village Feast went virtual in 2020 and 2021. Online attendance was free via Zoom, with patrons encouraged to take part in the auction on an app.
Last year, some guests gathered in small groups and enjoyed chicken dinners available from participating restaurants while watching the auction presenters on Zoom. Through the auction, the event raised more than $30,000, split between the two hosting organizations.
For the event's in-person comeback, organizers decided to do something different: Two simultaneous dinners, connecting Sacramento with Yolo farm country.
With locations in two counties, the 2022 Village Feast has a chance to reach a wider audience while offering fewer tickets. The tickets are $150 apiece (including all food and wine) until Aug. 31. Any remaining tickets will be priced $165.
Joni Stuart, president of LDEI's Sacramento chapter, expects sell-outs at both locations; Mulvaney's B&L (1215 19th St., Sacramento) is limited to about 100 tickets while Great Bear (24800 County Road 101A, Davis) can host more at its outdoor venue. The meal at Great Bear will be catered by The Buckhorn Grill.
"We are excited to have the Village Feast back in person again this year, and how wonderful that it is being held at these two beautiful venues, Mulvaney's B&L in Sacramento and Great Bear Vineyards in Yolo County," Stuart says.
At either place, the menu will stick to tradition: "As in years past, each meal begins with appetizers of olives, nuts, local wines and fresh baguettes," say the organizers. "The meal is served family-style, with passed platters of heirloom tomatoes drizzled with local olive oil, steamed and grilled local vegetables, hard-boiled eggs, and bowls of garlic-scented aïoli. Next comes the grilled lamb and summer white bean salad, then a fruit galette for dessert."
Still online will be the silent auction, open Oct. 2-16. No ticket is necessary and registration is free. Bid on dozens of items and experiences donated by local chefs, restaurants, wineries and community members. Download the free Auctria smartphone app at https://www.auctria.com/blog/auctria-mobile-app/ , and pre-register.
Being able to get back together to dine together in person makes this Feast extra special.
Says Stuart, "Breaking bread together in the Grand Aioli tradition of Provence, we will enjoy a fabulous feast, while supporting these two worthwhile charities. I hope we see you there!"
Tickets and more details: thevillagefeast.com .