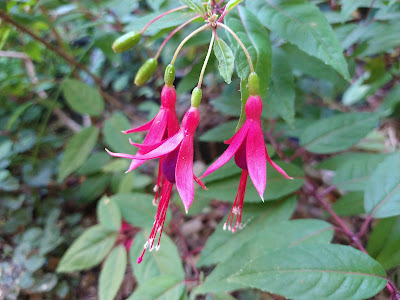 Angel Earrings are right at home in a shady
Sacramento backyard. (Photo: Debbie Arrington)
One of the prettiest flower shows in Sacramento returns Saturday when the Sacramento Fuchsia Society hosts its annual show and sale at Shepard Garden and Arts Center. Admission and parking are free.
Set for 10 a.m. to 4 p.m. Saturday, June 4, this one-day show is a wonderful opportunity to learn about fuchsias – and take some home, too.
Scores of plants, many grown by local club members, will be offered for sale including several varieties that are heat resistant and well adapted to Sacramento area gardens. Both bush and cascading varieties will be available.
For example, Angel Earrings – a dainty pink and purple cascading fuchsia – thrives in dappled summer shade. It's lovely spilling out of a hanging basket on a covered patio or in a flower bed under trees.
Most heat-tolerant fuchsias bloom profusely from late April through summer into fall. To look their best, they need consistent irrigation (don't let them dry out) and (at least) afternoon shade.
Find out more Saturday! Club members will offer advice as well as display their most beautiful plants and blooms. See dozens of varieties.
Shepard Center is located at 3330 McKinley Blvd., Sacramento.
Directions and details: www.sgaac.org .