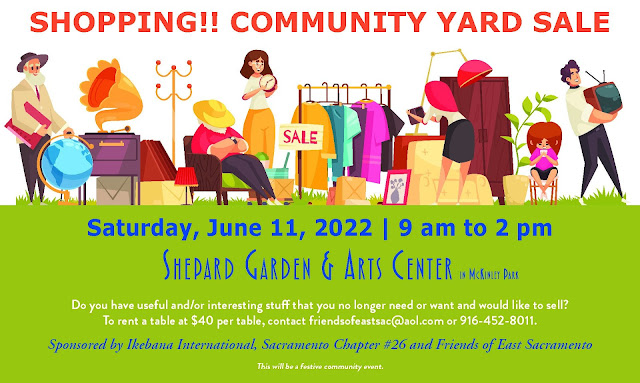 Club members and neighbors invited to sell items — and shop
It may feel like summer, but it's still spring, which means there's still time for spring cleaning!
What to do with all that stuff you no longer need? Community yard sale!
Shepard Garden and Arts Center, Friends of East Sacramento and the Sacramento chapter of Ikebana International are hosting a huge, garden-oriented community yard sale Saturday, June 11.
From 9 a.m. to 2 p.m., shop for all sorts of interesting things culled from closets and garages of members of the many clubs that use Shepard Center. In addition, the center is inviting community members who might want to sell items to rent a table space for $40. Call 916-452-8011 to make a reservation.
Otherwise, just show up and shop. Admission and parking are free.
Besides tools, books, vases, garden art and housewares, also expect to find crafts and art supplies.
And while enjoying the sale, check out the Yarn Bombing! Members of the Sacramento Center for Textile Arts are decorating bare tree trunks and poles on the east side of Shepard Center with colorful knit and crocheted yarn and fiber. The Yard Bombing installation is scheduled to debut Tuesday, June 7, and stay in place through July 7. According to the fiber artists, the reason is simple: "Why not?" The whimsical handiwork adds bright color to the building's surroundings and, even better, makes people smile.
Shepard Center is located at 3330 McKinley Blvd., Sacramento, in McKinley Park.
Details:
www.sgaac.org
.