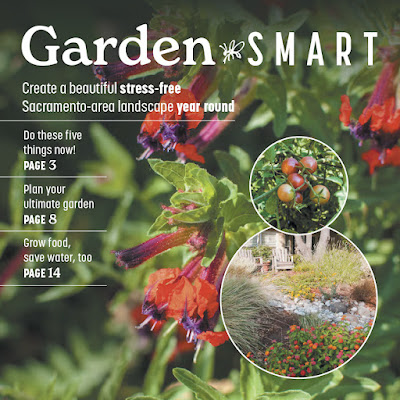 This is the cover of Debbie's award-winning
special publication. Look for it to return to
nurseries and other sites soon.
If you don't toot your own horn, who will? And this is a big deal: I'm a national award-winning garden writer – again.
GardenComm: Garden Communicators International (a.k.a. the national garden writers association) announced its 2022 Media Awards and I won the Silver Medal of Achievement for Best Garden Marketing Publication. The award is for my work on "Garden Smart," a special publication that was distributed at several local nurseries last fall. This is my fourth GardenComm Media Award, but first since 2018.
And here's more big news: "Garden Smart" will be available in print again soon.
Besides my role as co-founder/co-producer of Sacramento Digs Gardening, I'm publications editor for N&R Publications (the Sacramento News & Review people). Last year, we produced "Garden Smart" for the Regional Water Authority, the umbrella organization over our local water providers. The 16-page glossy magazine showed how to create a beautiful stress-free Sacramento-area landscape while saving time, money and water.
Read it here: https://issuu.com/news_review/docs/garden_rgb?e=2059002/87339442
"Garden Smart" was distributed at local nursery partners including Green Acres Nursery & Supply, High Hand, Big Oak, Elderberry Farms, El Dorado, Fair Oaks Boulevard, Goude's, Talini's, The Plant Foundry, The Secret Garden and Thompson Building Materials & Nursery. Anderson's Sierra Pipe Company, SiteOne Landscape Supply and Normac Irrigation also were partners. More than 10,000 copies were snatched up quickly at those locations.
Why mess with success? The Regional Water Authority has done a reprint of "Garden Smart," and it will be back at the publication's nursery partners soon – probably in late August.
As for the award, here's more information from the official announcement: "Top honors in its category, this national award recognizes individuals and companies who achieve the highest levels of talent and professionalism in garden communications. The 2022 competition had more than 165 entries in 67 categories. Recipients of the Silver Medal represent the best in their category and will now compete for Gold Medals in their category."
"The GardenComm Media Awards showcase writers, photographers, editors, videographers, social media managers, publishers, and trade companies that have demonstrated excellence in garden communications in print or electronic communications," says Maria Zampini, president of GardenComm.
The full list of winners will be available on the GardenComm website following the 2022 Annual Honors and Awards virtual event at 11:30 a.m. PDT Oct. 15. Learn more at www.gardencomm.org .