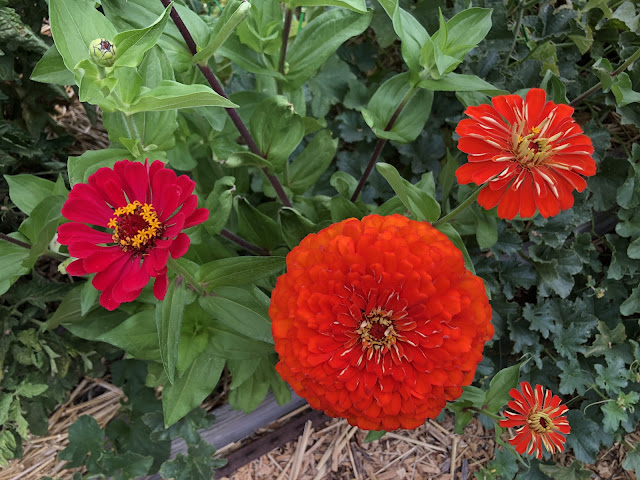 Zinnias brighten any landscape, and entice pollinators, too. (Photo: Kathy Morrison)
After so many triple-digit days in July, the start of August actually feels on the cool side.
According to the National Weather Service, Sacramento will see a steady string of afternoons in the low 90s with overnight lows dipping down close to 60. Historically, that's normal; average temperatures for Sacramento in August: High of 91 degrees and low of 58.
This mild summer weather is great for plants – and for getting things done. Tackle chores and watering in the morning before temperatures edge up in the afternoon. Remember: Always water before fertilizing.
* Pick up after your fruit trees. Clean up debris and dropped fruit; this cuts down on insects and prevents the spread of brown rot.
* Feed citrus trees their last round of fertilizer for the year. This will give a boost to the fruit that's now forming.
* Feed other fruit trees, too, with slow-release fertilizer for better production for next year.
* Camellia leaves looking a little yellow? Feed them some chelated iron. That goes for azaleas and gardenias, too.
* To prolong bloom into fall, feed begonias, fuchsias, annuals and container plants.
* Fertilize fall-blooming perennials, too. Chrysanthemums can be fed until the buds start to open.
* Harvest tomatoes, beans, squash, pepper and eggplants to prompt plants to keep producing. Give your plants a deep watering twice a week, more if planted in containers.
* Give tomatoes and peppers a boost with phosphate-rich fertilizer to help fruiting.
* Watch out for caterpillars and hornworms in the vegetable garden. They can strip a plant bare in one day. Pick them off plants by hand in early morning or late afternoon.
* In the vegetable garden, direct seed beets, carrots, leaf lettuce and turnips.
* Plant potatoes.
* Pinch off dead flowers from perennials and annuals to lengthen their summer bloom.
* Deadhead roses for more flowers in early fall.
* Indoors, start seedlings for fall vegetable planting, including bunching onion, cabbage, broccoli, cauliflower, kale, radicchio and lettuce.
* Sow seeds of perennials in pots for fall planting including yarrow, coneflower and salvia.