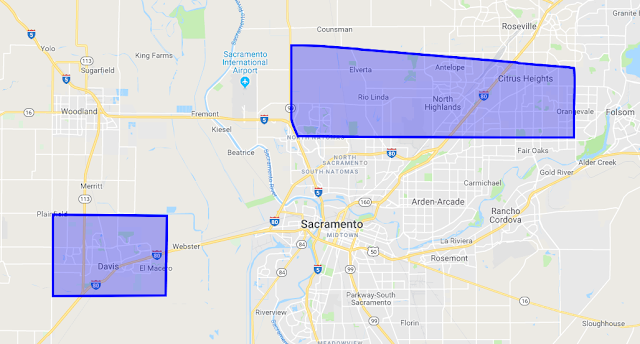 The shaded areas are being considered for aerial spraying.
City of Davis and north Sacramento County under watch for mosquitoes and dead birds
As numbers of dead birds and positive samples of West Nile virus continue to mount, officials in Sacramento and Yolo counties are considering more aerial spraying to control mosquitoes.
Another round of aerial spraying may come as early as next week, according to the Sacramento-Yolo Mosquito and Vector Control District. Lab results due Friday will determine the course of action.
This time, the focus is on the city of Davis in Yolo County plus the Sacramento communities of Citrus Heights, North Highlands, Orangevale, Antelope, Natomas, Elverta and Rio Linda.
"The intensity of the virus continues to escalate and aerial spraying may be necessary in order to protect the health of residents living in these areas," said district manager Gary Goodman. "We need to act quickly, do everything we can to reduce mosquito populations and ensure they are not a public health threat."
In late July, the district sprayed Sacramento's Pocket neighborhood as well as parts of Sacramento County south of Fruitridge Road and the city of Elk Grove.
This has been a bad summer for West Nile virus in the greater Sacramento area, with 19 confirmed human cases.
So far in 2018, the district reports 242 positive mosquito samples and 200 dead birds that tested positive for the virus in Sacramento County. An additional 53 positive samples and 19 dead birds were found in Yolo. Positive samples also have been found in Placer and San Joaquin counties.
Control of mosquitoes that may be carrying the deadly virus is essential, according to the district. Ground spraying and treatment of parks, trails, green belts and creeks have stepped up around Davis and northern Sacramento County.
Residents can sign up for spray alerts via the district's website. For more information:
www.fightthebite.net
.
Worried about what these pesticides will do? How to prepare for aerial spraying:
http://sacdigsgardening.blogspot.com/2018/07/are-you-ready-for-tonights-aerial.html