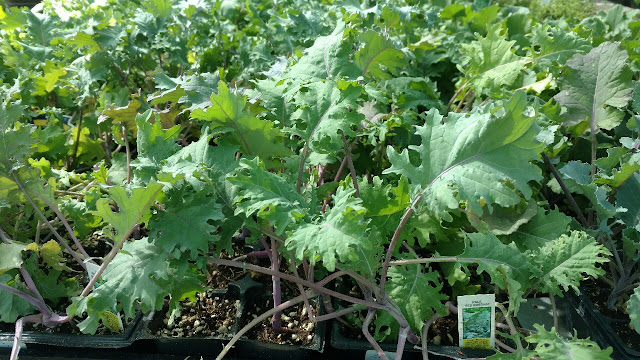 Love kale? Time to get transplants in the ground. (Photo: Debbie Arrington)
How much moisture did your garden get? Plan and plant accordingly
In its first few days, October already feels different than the month before. That included a splash of measurable rain.
While some parts of the Sacramento region received a healthy dose, many neighborhoods felt barely a trickle. Sacramento Executive Airport reported 0.04 inches since Monday, according to the National Weather Service.
That brings Sacramento's 2018 total to 13.58 inches, actually more than an inch above normal for that period. (Sacramento's average October rainfall total is just under 1 inch.)
Before shutting off the sprinklers or dragging out the hose, check the soil. It will tell you how far recent rain reached or if more water is needed.
Try to push a long-handled screwdriver or other soil probe into the ground. If you can't push it in easily more than 2 inches, your garden likely needs more water than that first storm provided.
If in doubt, use a trowel and look at the soil, Moisture should reach at least 4 inches deep.
While you have the trowel out:
* Dig up corms and tubers of gladioluses, dahlias and tuberous begonias after the foliage dies. Clean and store in a cool, dry place.
* Treat azaleas, gardenias and camellias with chelated iron if leaves are yellowing between the veins. A little boost now will benefit their spring flowers, too.
* Clean up the summer vegetable garden and compost disease-free foliage.
* Harvest pumpkins and winter squash.
* Plant seeds for many flowers directly into the garden, including cornflower, nasturtium, nigella, poppy, portulaca, sweet pea and stock.
* Set out cool-weather bedding plants for instant color, including calendula, pansy, snapdragon, primrose and viola.
* In the vegetable garden, plant seeds for radishes, bok choy, mustard, spinach and peas. Plant garlic and onions.
* Transplant cabbage, broccoli, kale, cauliflower, lettuce and other cool-weather favorites.
* Chill spring-blooming bulbs. Tulips and hyacinths need six weeks in the refrigerator before planting. Avoid storing bulbs with apples or pears.