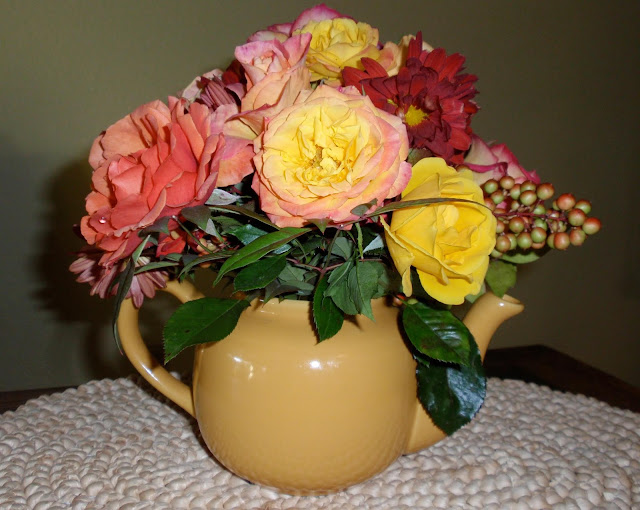 A teapot makes a fun vase for this Thanksgiving centerpiece. (Photo: Debbie Arrington)
Easy and quick centerpiece starts with whimsical 'vase'
This easy Thanksgiving centerpiece will fit your holiday table to a "tea."
Low enough to allow cross-table conversation, this teapot bouquet adds a perky and colorful note to the festivities. As a vase substitute, the relatively shallow teapot doesn't require long-stemmed flowers. (Blooms used in this example had stems just 4 to 8 inches long.) It holds water without leaking, a must for tabletop arrangements. And it's quick and easy to move off the table when the dinner's real centerpiece star -- the turkey -- arrives.
Choose a teapot with a relatively wide opening (3 inches or more); set aside its lid. Depending on the configuration of the teapot, plug the spout with a cotton ball.
To keep flowers in their place, stuff the teapot with pre-soaked floral foam (available from Michael's or other crafts stores). Or make a grid across the top of the teapot with clear tape. Either method creates a professional-looking result without as many flowers. Otherwise, use more flowers and filler to make a well-rounded bouquet; the stems will hold each other in place.
Gather flowers, foliage, berries and rose hips that complement the teapot's color and decoration. For this mustard-yellow teapot, yellow and orange floribunda roses (Shockwave, Mardi Gras and Easy Does It) blended with red chrysanthemums and nandina (heavenly bamboo) berries and red-tinged foliage.
With rain in the forecast late Tuesday night and Wednesday, bring in flowers and other plant material from your garden before the storms start. Rinse off the blooms and foliage to remove any ash (or opportunistic insects). Re-cut the bottom inch off the stems under water to remove any air bubbles. Then, put stems in water until ready to make your arrangement.
This bouquet can be made a day or two ahead. Before making the arrangement, submerge the whole stems and leaves in room-temperature water. Let the plant material soak until ready to use. That fully hydrates the stems and foliage to keep them looking fresher longer.
After removing the flowers from their soak, gently shake off excess water from each stem. Gently wipe shiny leaves (such as rose leaves) with a soft dry cloth to bring out their sheen.
Select a center bloom for the bouquet. It will be the tallest flower in the arrangement, too. Place it in the middle of the teapot opening (the foam or tape will allow it to stick straight up), then start adding flowers around it. Turn the teapot as you fill, evenly distributing the blooms.
After placing the flowers, add the filler – foliage, berries and smaller blooms. As its name suggests, this material fills in the spaces around the larger flowers.
Once the arrangement's
completed, add water to the teapot to make sure every stem has moisture. (It's not too late to plug the spout if it leaks.)
Place your teapot centerpiece on the table and let the compliments pour in.