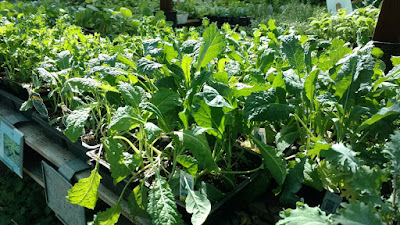 Kale transplants can go into the garden now. (Photo: Debbie
Arrington)
Sunshine after storms brings planting opportunity
Got kale? It's not too late to add some leafy greens to your garden.

Thanks to two-plus days of rain, soil is moist enough to dig but not too soggy to work. With mild weather forecast through Monday, it's a good time to get outside and plant some winter vegetables -- or a lot more.

According to the National Weather Service, Sacramento received 1.18 inches from our first real storms of the season. That's still low -- normal to date is 2.44 inches -- but we're catching up fast. More rain is expected Tuesday.

What to do during this window of opportunity?

* Keep planting bulbs to spread out your spring bloom. Some possible suggestions: daffodils, crocuses, hyacinths, tulips, anemones and scillas.

* This is also a good time to seed wildflowers and plant such spring bloomers as sweet pea, sweet alyssum and bachelor buttons.

* Now is the best time to plant most trees and shrubs. This gives them plenty of time for root development before spring growth. They also benefit from fall and winter rains.

* Set out cool-weather annuals such as pansies and snapdragons.

* Lettuce, cabbage and broccoli also can be planted now as well as kale, cauliflower, Chinese cabbage and other leafy green veggies.

* Plant garlic and onions.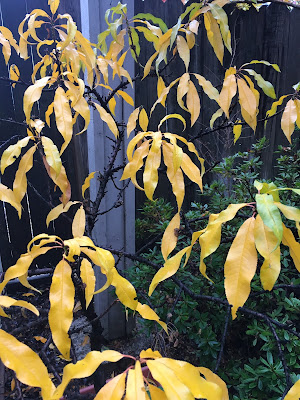 Once the leaves are gone from this little peach
tree,
the "dummy fruit" needs to be removed
and the tree
sprayed with coper fungicide.
(Photo: Kathy Morrison)
* Rake and compost leaves, but dispose of any diseased plant material. For example, if peach and nectarine trees showed signs of leaf curl this year, clean up under trees and dispose of those leaves instead of composting.
* Speaking of leaf curl, apply a copper fungicide spray to peach and nectarine trees after they lose their leaves. The spray needs to be applied before (at least) a 24-hour dry period to be most effective. Leaf curl, which shows up in the spring, is caused by a fungus that winters as spores on the limbs and around the tree in fallen leaves. It also is found in "dummy fruit," little brown fruit that never developed and clings to the limbs. Remove any "dummies" before spraying.
* Turn off the sprinklers this week. Mother Nature has irrigation covered.