Sacramento cleanup service is behind schedule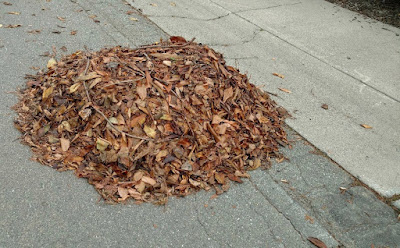 This pile of leaves likely will be occupying this spot at least until
Christmas,
or maybe
later. (Photo: Debbie Arrington)
This is Sacramento's prime leaf season. It's pruning time, too. Which means piles and piles and piles of leaves and trimmed branches line our residential streets, waiting for The Claw to roll around.

But this December has proved overwhelming for this fixture service of Sacramento winters. The Claw is way behind schedule. Instead of the usual 14-day turnaround, residential green-waste street pick-up is taking three weeks or more. Residents are complaining as the leaves and twigs keep piling up.

The city of Sacramento sent out an explanation via Nextdoor.com about slow service in the Land Park neighborhood, which hadn't had pick-up since Nov. 20-22. But it's a citywide issue.

According to the city's online collection calendar, The Claw last visited my block in The Pocket on Dec. 3. It read, "Leaf collection estimate for your street (is) Dec. 24-26. Dates will likely change!"

Yes, Christmas Eve, Christmas Day or Kwanzaa, we can expect our piles to disappear. Right now, I'm hesitant to put anything more out there. Holiday guests will have no place to park.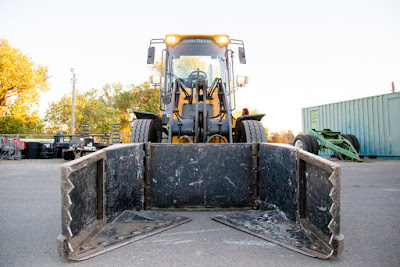 The city's green-waste grabber known as The Claw is behind schedule
thanks to the massive leaf drop in early December.
(Photo courtesy City of Sacramento)
The problem is too many wet leaves, according to The Sacramento Bee. (Read the full story here:
https://bit.ly/2PCEyPt
) Rainy weather coincided with a massive leave drop in early December. This has ke
pt city crews working six days a week, trying to catch up. The added weight of wet leaves means the trucks can be filled only partway, further complicating the problem.
During the first 11 days of December 2017, The Claw fleet collected about 800 tons of green waste. In those same days in 2018, they collected more than 1,700 tons. That's a lot of leaves.

The city suggests using the green-waste cans first before adding more leaves to the street. The cans get picked up weekly. Think about composting fallen leaves or using them as mulch. Anything helps this overload.
Meanwhile, delay pruning to dry weather. The Claw service continues through Jan. 27.
Residents can get email reminders and text alerts on waste pick-ups via the city's website. For more on leaf season and a link to the collection calendar:
https://bit.ly/2rDmnj4