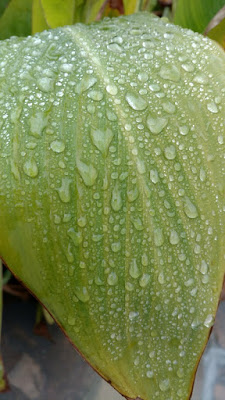 Some patio plants may need more moisture;
others caught enough rain.
(Photo: Debbie Arrington)
Work around storms; plan for spring
Rain dictates our garden activity this week as Sacramento continues to get a good January soaking.
According to the
National Weather Service
, Sacramento Executive Airport has received 1.64 inches so far this month, slightly ahead of normal (1.28) for that 12-day period. That brings us up to 6.52 inches for the rain season, which started Oct. 1. That's still an inch below average, but closing the gap.
More storms are forecast Monday through Thursday, so take advantage of this weekend's break in the weather for any outdoor tasks:
* Where is rain water flowing? Make sure it doesn't accumulate near foundations. Direct rain to flow away from structures. Are low spots draining?
* Clear out any debris that may have clogged storm drains, gutters or downspouts.
* Dump water that may have accumulated in saucers under potted plants or in pots themselves. Containers can become over-saturated, drowning roots.
* Not everything got watered by rain. Check plants under eaves, on patios or under large evergreens. They may still need a drink.
* Jot some notes on your garden calendar. How much rain did your garden get? Consider getting a rain gauge.
* Prune, prune prune. Tackle roses now.
* All this moisture has weeds sprouting. Whack them while they're young.
* Plant bare-root roses, fruit trees, ornamental shrubs and berries.
* Compile a list of what to grow this spring and summer.
* Inventory your leftover seed packets. Most seeds remain viable two to three years after their suggested planting date. Many stay viable much longer.
* Browse seed catalogs or seed company websites; order early for best selection.
* Start tomato and pepper seeds indoors.