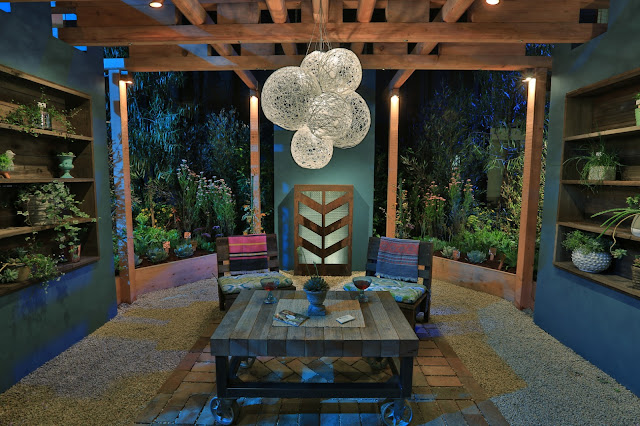 Renowned for its designer show gardens, the 2019 San Francisco Flower and Garden Show will be held at Cal Expo.
(Photo: Courtesy San Francisco Flower and Garden Show)
Sacramento will be new home to prestigious event March 21-24
One of San Francisco's hallmark gardening events is moving to Cal Expo.
Renowned for its designer gardens and spectacular orchid market, the 2019 San Francisco Flower and Garden Show will be held at
Cal Expo
on March 21-24. Tickets are on sale now.
A scheduling snafu at the Cow Palace in Daly City forced the prestigious show, now in its 34th  year, to scramble for a new home, explained show producer Sherry Larsen.
"They booked (an event for) Facebook on our dates," said Larsen, who didn't know about the scheduling conflict until late December. "I called Cal Expo and they had our weekend available."
Larsen had previously produced garden shows at the Sacramento fairgrounds and jumped at the opportunity.
"I know the Sacramento market; it's wonderful," she said.
Sacramento patrons have been strong supporters of the San Francisco show, both in Daly City and its previous home in San Mateo, Larsen noted.
"Tracking our ticket sales, we saw 14 percent sold to people from just the city of Sacramento – not counting other Sacramento area cities -- at San Mateo," she said. "They were willing to drive to San Mateo. Now, they just have to go to Cal Expo."
Many of the show's internationally known vendors will make the switch, she added. "With this late change, the show will be smaller; we lost a few designers that were embedded in the Bay Area. But we'll fill the Pavilion (at Cal Expo)."
Sacramento area garden clubs are invited to participate, she noted. The show offers free space for garden clubs to staff information booths and recruit new members.
Volunteers also are needed to help staff the many exhibits as well as garden designers to compete in the garden showcase or create displays. Details and forms are available at
https://www.sfgardenshow.com/the-show
About 32,000 patrons attended last year's San Francisco Flower and Garden Show at the Cow Palace, Larsen said. To help entice gardening enthusiasts to Cal Expo, the show dropped its ticket prices from $25 to $18 at the gate, $16 early bird. Currently, the show's website offers a Valentine's Day special: Two tickets for $30.
In addition to bringing in some horticultural all-stars, Larsen is drawing on local talent to fill the show's four-day speaker schedule with almost nonstop seminars and workshops. Speakers will be announced later this month.
"We have three stages," Larsen said. "That's what your ticket price really pays for – all that expertise and information, from floral design to urban homesteading."
Details and tickets:
www.sfgardenshow.com
.