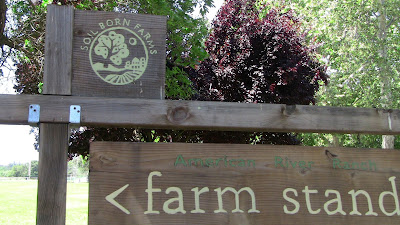 Soil Born Farms' American River Ranch hosts a special family event.
(Photo: Courtesy Soil Born Farms)
Special event includes farm stand, tastings, workshop and more
Take the kids down to the farm and find some spring inspiration.
Soil Born Farms' American River Ranch, Sacramento's oldest continuously working farm, hosts "Saturday at the Farm: Signs of Spring," from 9 a.m. To 1 p.m. Saturday, Feb. 23.
There's free fun for kids of all ages plus a pop-up produce stand, brimming with late-winter harvest.
For a small fee ($10), the "Bread & Butter" family workshop shows how farmers made these staples from scratch, starting with whole grains grown on the ranch and whole milk. Participants will help grind wheat and gather herbs as well as enjoy the final product, fresh baked bread and homemade butter. This workshop is open to children, age 5 and up, as well as adults. (Register in advance online at
www.soilborn.org
or call 916-363-9685.)
Several free talks and demonstrations will be presented including how to prepare seasonal vegetables (with free tastings from 9 a.m. to 12:30 p.m.) and fruit tree care (at 12:30 p.m.). A peasant's lunch ($8) will be served from 11 a.m. to 1 p.m.
Take guided tours to see native plants and wildlife as well as the working farm.
Soil Born's American River Ranch is located at 2140 Chase Drive, Rancho Cordova. For more details and directions:
www.soilborn.org
.
- Debbie Arrington