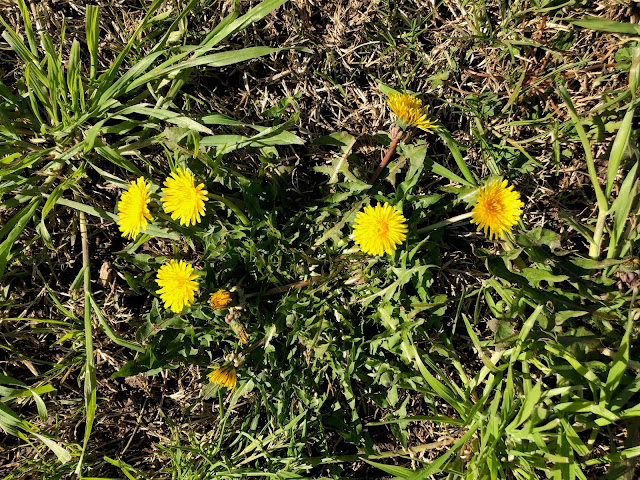 These dandelions are blooming in a park, but they're a good reminder to get rid of weeds now before they get out of hand -- and before the next storm.
(Photos: Kathy Morrison)

As soggy, cool conditions continue, let garden dry out
Feeling soggy? So far, February has been all wet, with more rain on the way.
According to the National Weather Service, Sacramento has totaled almost twice as much precipitation this rain season compared to last year: 13.39 inches compared to 7.63.
Storms are in the forecast Monday, Tuesday and Wednesday. So, make the most of any breaks in the weather to get things done:
* Plant bare-root roses, trees, shrubs and perennials in containers as temporary homes until soil dries out.  They'll develop new roots and stay healthy. In April, transplant the whole rootball.
* Before planting in containers or the ground, rehydrate bareroot plants. Soak roots in water for at least 30 minutes.
* Tomato and pepper seedlings getting big with nowhere to go? Transplant them into larger containers; it's still too cold for them to be transplanted into the ground or raised beds.
* Tip water out of potted plants and containers. Eliminate any standing water that may have accumulated in wheelbarrows, saucers, etc.
* Consider spots for a rain garden, where water can naturally percolate into the ground to irrigate the landscape.
* Feed spring-blooming shrubs and fall-planted perennials with slow-release fertilizer. Feed mature trees and shrubs after spring growth starts.
* Fertilize established strawberries and asparagus.
* Remove aphids from blooming bulbs with a strong spray of water or insecticidal soap.
* When soil is sufficiently dry, transplant or direct-seed several flowers, including snapdragon, candytuft, lilies, astilbe, larkspur, Shasta and painted daisies, stocks, bleeding heart and coral bells.
* In the vegetable garden, plant Jerusalem artichoke tubers, and strawberry and rhubarb roots.
* Transplant cabbage, broccoli, kale, Brussels sprouts and lettuce.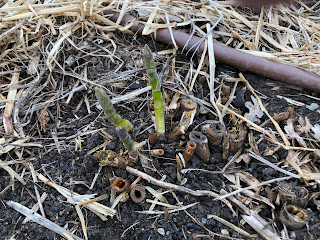 Established asparagus can be fertilized now.
* Plant artichokes, asparagus, rhubarb and horseradish from root divisions.
* Plant potatoes from tubers and onions from sets (small bulbs). The onions will sprout quickly and can be used as green onions in March.
* From seed, plant beets, chard, lettuce, mustard, peas, radishes and turnips.
* Indoors, start peppers, tomatoes and eggplant from seed.
* Remember to weed; all this wet weather has germinated lots of grasses. Dandelions are in bloom.