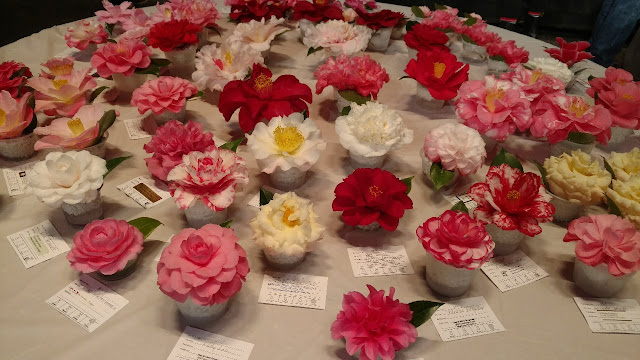 Top blooms are displayed at the 2018 Sacramento Camellia Show.

(Photos: Debbie Arrington)
This weekend, the world's largest and oldest camellia show debuts in Greenhaven venue
The world's largest and oldest flower exhibition of its kind, the Sacramento Camellia Show, has a new home. Now it just needs blooms.
Due to renovations at Memorial Auditorium, the 95th annual Sacramento Camellia Show will be held for the first time at the Elks Lodge, 6446 Riverside Blvd., in Sacramento's Greenhaven neighborhood.
Always held the first weekend in March, the show is open to the public from 3 to 6 p.m. Saturday, March 2, and 10 a.m. to 5 p.m. Sunday, March 3. Admission and parking are free.
"Parking has always been an issue (at Memorial Auditorium), but we'll have no problem with parking this time," said Julie Vierra, president of the Camellia Society of Sacramento. "(The Elks) are the most accommodating people. It will be a little different configuration; everything won't be together in one room. It's a little cozier, but we should be just fine."
The challenge is making sure the public knows where to find them. This show annually attracts thousands of visitors, who come out in force to celebrate Sacramento's official flower.
"The Elks host a big breakfast Sunday morning," Vierra noted. "We're hoping people walk right over after breakfast."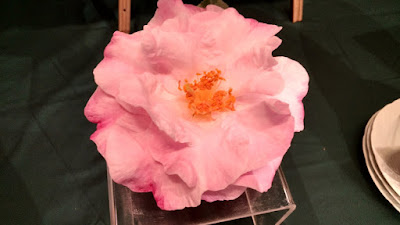 Best of Show at the 2018 Sacramento Camellia Show went to Holy Pure,
grown by Don and Joan Lesmeister.
The move has been expensive, she added. Rent at the lodge is much higher than what the society was paying for space at Memorial, but this venue was the best option for Sacramento's longest running flower show. And more important, the society found a way for the show to go on.
Sales of commemorative buttons, always a popular memento from this show, will help bring in donations. So will the sale of more than 200 mature camellia plants. During the show, they'll be offered for $20 apiece. Vierra hopes the show also can attract some sponsors or other donations to help cover the increased costs.
In the Camellia City, this show is a community effort. Anyone can enter camellias, as long as they grew the flowers themselves. Experts will help novice exhibitors prepare their flowers for display and judging. Entries should be received between 7 and 10 a.m. Saturday. All entries must be in place for judging by 10:30 a.m.
In addition to thousands of blooms, the show features arrangements by the Sacramento Floral Design Guild.
"We're thrilled to have the arrangers," Vierra said. "We're hoping to get a break in the rain and a big crowd, too."