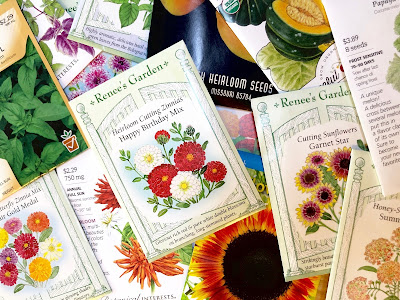 All those seeds you've been stashing for warm-weather flowers and vegetables
can be brought out now. Be sure to prep the soil first. (Photos: Kathy Morrison)
Prepare to get busy after so much rain
April showers? In Sacramento, it's March showers that bring April flowers; they can't wait for May. Judging by recent rain, it should be a bloom-tastic month ahead.
We've had plenty of wet weather this past month. According to the National Weather Service, 3.76 inches fell in March, pushing our seasonal total to 20.3 inches – more than 4 inches above normal. No drought this year.
April is normally much drier, averaging 1.15 inches total. High temperatures average a very agreeable 71 degrees, but can soar into the 90s or plunge to near-freezing. Be prepared for just about anything, but especially a lot of rapid growth.
What should we be doing these first days of April? Here are some suggestions: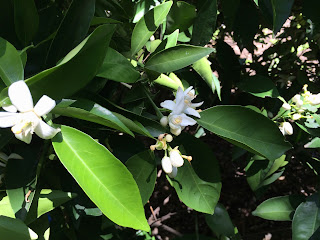 If your orange tree is starting to bloom, give it a low dose of
fertilizer to help set fruit.
* April is the last chance to plant citrus trees such as dwarf orange, lemon and kumquat. These trees also look good in landscaping and provide fresh fruit in winter.
* Smell orange blossoms? Feed citrus trees with a low dose of balanced fertilizer (such as 10-10-10) during bloom to help set fruit. Keep an eye out for ants.
* Thoroughly clean debris from the bottom of outdoor ponds or fountains.
* Trim dead flowers but not leaves from spring-flowering bulbs such as daffodils and tulips. Those leaves gather energy to create next year's flowers. Also, give the bulbs a fertilizer boost after bloom.
* Pinch chrysanthemums back to 12 inches for fall flowers. Cut old stems to the ground.
* Get ready to swing into action in the vegetable garden. As nights warm up over 50 degrees, start setting out tomato, pepper and eggplant transplants.
* From seed, plant beans, beets, cantaloupes, carrots, corn, cucumbers, melons, pumpkins, radishes and squash. Plant onion sets.
* In the flower garden, plant seeds for asters, cosmos, celosia, marigolds, salvia, sunflowers and zinnias.
* Transplant petunias, zinnias, geraniums and other summer bloomers.