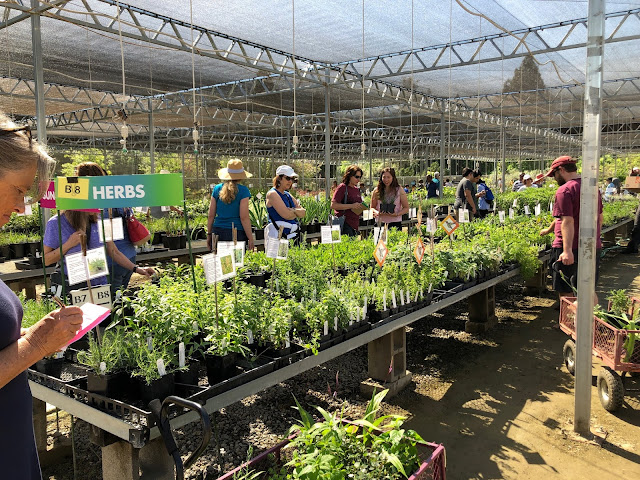 Expect plant lovers to turn out for the UC Davis Arboretum Nursery spring clearance sale. (Photo: Kathy Morrison)
Master gardeners' Open Garden, a big Arboretum plant sale and a Placer County tour add to crowded calendar
If you haven't made plans yet for this weekend, garden fans, we have even more possibilities for you. Debbie's already written about
Bloomtastic
in Newcastle and the
David Lubin garden tour
in East Sacramento, not to mention the Chrysanthemum Society's
rooted-cuttings sale
.
Yes, there's more, because it's May and the weather is perfect and we are all so happy to be outside.
In Fair Oaks on Saturday, from 9 a.m. to noon, the Sacramento County UCCE master gardeners will fully staff their Horticulture Center for the May Open Garden event. This free, informal event is a great opportunity to ask the experts questions on just about any gardening topic, and to see firsthand how the several garden sites in the Horticulture Center are progressing as spring edges toward summer.
At 10 a.m. a straw-bale gardening demonstration will be held in the vegetable garden. Last year, master gardener Gail Pothour and her crew planted sweet potatoes in the bales and grew a bumper crop. It will be fun to see what the bales will produce this year.
Also, a mini talk at 10:30 a.m. in the Water Efficient Landscape (WEL) Garden will cover container gardening, important especially for gardeners with limited space.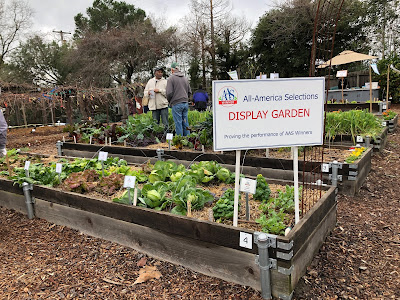 In February, the Horticulture Center's All-America Selections display garden
was all about greens. The spring vegetable garden should be well
under way;
check it out at the Open Garden this weekend. (Photo: Kathy Morrison)
Otherwise, there will be ongoing demos and activities including fruit tree planting ideas, in the orchard;  spring planting and grooming beds for summer growth, in the herb garden; irrigation, in the WEL Garden;  tips on keeping birds off berries, in the berry area; planning for warm-season crops, in the vegetable garden; canopy management, in the vineyard, and information on compost bins, in the compost area.
The Horticulture Center is at 11549 Fair Oaks Blvd., Fair Oaks, just south of the Fair Oaks Library.
Across the causeway, the big spring plant clearance sale gets under way at 9 a.m. Saturday at the UC Davis Arboretum Teaching Nursery. The one-acre nursery will cut prices 25 percent for Arboretum members and 15 percent for the public. If you've been looking for California native plants, perennials, shrubs or even trees to fill out your landscape, this is the place.
The nursery sales also are staffed with master gardeners, who can answer questions and make recommendations. Children's activities and music are part of the event, too, making it an excellent family outing for plant lovers. The sale runs until 1 p.m. A link on their
website
leads to the complete list of plants on sale.
Another family event, a Mother's Day garden tour, takes place
10 a.m. to 4 p.m.
Sunday in Granite Bay, Loomis and Rocklin. This is an annual event presented by the Placer County master gardeners, and, like the East Sacramento tour, it offers a rare peek at impressive private gardens.
Tickets are $20 per person; children under 12 admitted free. Tickets are available in advance at Eisley Nursery in Auburn, and the Rocklin and Roseville locations of Green Acres Nursery and Supply. Information:
http://pcmg.ucanr.org/