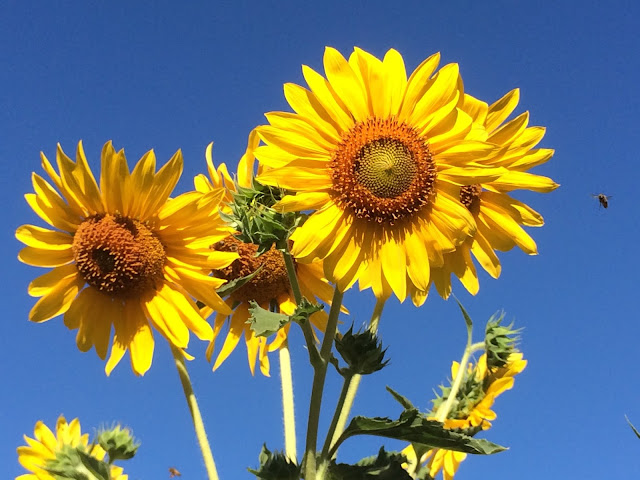 Plant seeds for sunflowers now, and the bees will thank you. (Photo: Kathy Morrison)

Get used to warmer weather; plant for summer
With warmer days and nights, May is prime planting time in the Sacramento area, which makes this a very busy time for farmers -- and gardeners.
This week will be a little unusual: Showers are in the forecast Thursday and Friday, keeping temperatures a little cooler. That's good news for transplants.
Otherwise, the 10-day forecast is pretty normal. May's average daytime high is 80 degrees, and we'll be seeing several afternoons in the low 80s.
Get used to it. According to the National Weather Service, Sacramento's average daytime high temperature stays above 80 degrees now through Oct. 15.
* Are birds picking your fruit off trees before the fruit is ripe? Try hanging strips of aluminum foil on tree branches. The shiny, dangling strips help deter birds from making themselves at home.
* As spring-flowering shrubs finish blooming, give them a little pruning to shape them, removing old and dead wood. Lightly trim azaleas, fuchsias and marguerites for bushier plants.
* If you haven't already, set out tomato transplants along with peppers and eggplants. Pinch off any flowers on new transplants to make them concentrate on establishing roots instead of setting premature fruit.
* Direct-seed melons, cucumbers, summer squash, corn, radishes, pumpkins and annual herbs such as basil.
* Harvest cabbage, lettuce, peas and green onions. This warm weather will make lettuce, cabbage and other cool-weather crops "bolt" or go to seed.
* In the flower garden, direct-seed or transplant sunflowers, cosmos, salvia, zinnias, marigolds, celosia and asters.
* Plant dahlia tubers.
* Transplant petunias, marigolds and perennial flowers such as astilbe, columbine, coneflowers, coreopsis, dahlias, rudbeckia and verbena.