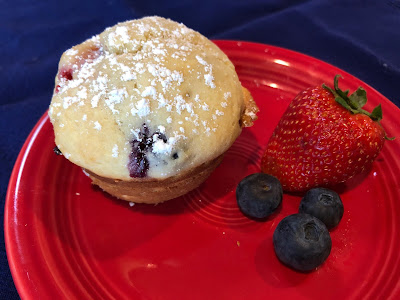 This muffin is a great use for fresh summer fruit. (Photos: Kathy Morrison)
Fresh local fruit is so wonderful in baked goods. I'm always looking for new ways to feature it, especially in quick recipes that don't require much time in the kitchen on warming-to-hot day. That's why I like baking for breakfast or weekend brunch: I'm done long before the temps are unbearable.

This recipe, adapted from "Bake From Scratch: Volume 3," by Brian Hart Hoffman, gives a fruit muffin an intriguing tang by including ricotta cheese. I've used strawberries and blueberries here because that's what I had on hand, but I could see it working just as well with blackberries, cherries or the peaches that are just coming to market.

Note: This makes a lot of batter. I chose to bake 12 extra-large muffins in a regular muffin pan, but you could use two pans to make about 16 regular-size muffins, or put the extra in a mini-muffin pan for snack-size muffins.

Ricotta muffins with fruit
Makes 16 regular or 12 extra-large muffins

Ingredients:

2-1/4 cups unbleached all-purpose flour
3/4 cup granulated sugar
2 teaspoons baking powder
1/2 teaspoon salt
1 cup ricotta cheese (whole-milk or low-fat)
2 large eggs
2/3 cup whole milk
1/4 cup canola or other neutral vegetable oil
2 teaspoons vanilla extract
3/4 cup diced fresh strawberries
3/4 cup fresh blueberries, checked for stems, washed and gently dried
Confectioners' sugar, for finishing

Instructions :

Preheat oven to 350 degrees. Prepare the muffin pan(s), either by spraying with cooking spray or lining with paper liners.

Combine in a large bowl the flour, sugar, baking powder and salt. Set aside.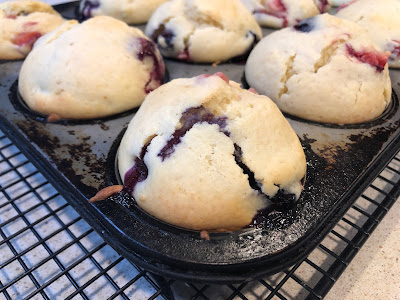 These muffins are done, even though they're hardly brown at all.
In a medium bowl or large glass measuring cup, stir together the ricotta and eggs, then add the milk. Stir in the oil and the vanilla extract.

Add the ricotta mixture to the flour mixture, stirring with a wooden spoon or flexible spatula until just combined. Gently fold in the prepared fruit.

Divide the batter among the prepared cups. Bake until a wooden pick inserted in the center comes out clean, about 20 minutes for regular-size muffins or 25 minutes for larger ones.

Note: The muffins do not brown much, if at all, so don't use their color as an indication of doneness.

Remove muffins from oven and allow to cool 10 minutes. Garnish with confectioners' sugar before serving. Store any leftover muffins covered, in the refrigerator. (They reheat well in the microwave.)

Variations:

Substitute 1-1/4 to 1-1/2 cups peeled diced peaches (pat fruit pieces with a paper towel if the peaches are very ripe) or pitted chopped cherries in place of the berries, and use a combination of 1 teaspoon almond extract and 1 teaspoon vanilla extract.

For blackberry muffins, use 1-1/4 cups washed fresh berries and 2 teaspoons vanilla extract. Stir in 1/2 teaspoon lemon or lime zest if desired.