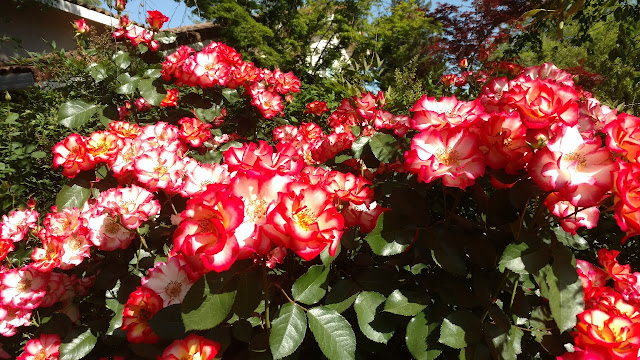 Betty Boop rose puts on a show all summer. With a little care, roses can survive the heat. (Photos: Debbie Arrington)

How do you grow beautiful roses in the heat of summer? Keep an eye on your bushes and make them comfortable.

After the first (or second) flush of spring bloom, roses need deep and consistent irrigation. They appreciate a weekly soaking and a blanket of cooling organic mulch. As long as they have water, roses can recover from all sorts of issues and bloom some more.

To prompt new flowers, cut off the old ones. This dead-heading spurs fresh growth.

Planning a big day in your garden? For an impressive late-summer or early fall rose display, cut back spent blooms and fertilize bushes a balanced rose fertilizer six to eight weeks before your target date. Remember to water deeply before feeding.

If some bushes look stressed, check your irrigation. A mature hybrid tea rose needs about 5 gallons a week, about the same as a tomato plant. If your bushes are on drip irrigation, adjust water flow to the emitters. Make sure the plant is receiving water on all sides and not just one place.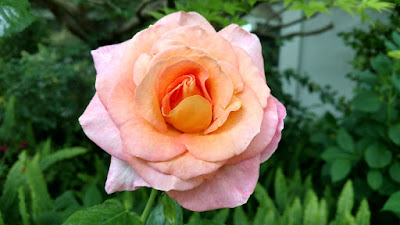 Day Breaker floribunda, a heavy summer bloomer, is very fungal-disease resistant.
Too much moisture can cause issues, too. A wet and mild spring led to rampant fungal diseases with lots of powdery mildew and black spot.

These problems will soon disappear. Temperatures above 95 degrees will generally wipe out those fungal issues, allowing the bush time to grow new leaves and recover during the hot days to come.

Bushes will drop dead or infected leaves; remember to pick them up. Otherwise, the spores will jump back up on the bush when high temperatures cool down to the 70s in fall. (Also pick up fallen petals; they may contain fungal spores, too.)

If your bushes were plagued by fungal disease, consider swapping out the mulch for fresh wood chips or shredded bark. Likely, the mulch will be full of fungi, too.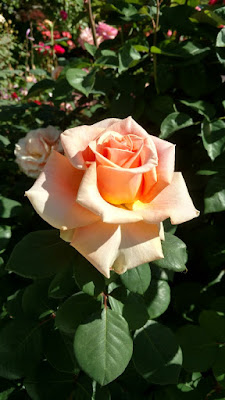 Marilyn Monroe hybrid tea can take heat.
In his summer tips, master rosarian Baldo Villegas, Sacramento's Bug Man, advices gardeners to look out for one rose pest in particular: Spider mites.

These little pests (a tiny spider cousin) can cover foliage with webs. They suck the life out of leaves and eventually can defoliate the bush. According to UC master gardeners, the individual spider mite looks like a moving dot; it's less than 1/20th of an inch in length.

But under hot and dry conditions, spider mites can multiply quickly, almost smothering plants with their webs in the process.

Water-stressed bushes are the most likely to be attacked and damaged by spider mites. They ride the breeze to infect other plants.

Be careful when using pesticides against spider mites; they may actually be helping the mites by eliminating their natural predators.

"Broad-spectrum insecticide treatments for other pests frequently cause mite outbreaks, so avoid these pesticides when possible," advises the UC integrated pest management guidelines.

An outbreak can usually be headed off by observation.

"Monitor for the presence of spider mites by checking for discolored leaves and webbing on the undersides," Villegas advices on his SactoRose.org website. "Discourage spider mites by spraying the undersides of leaves with a water wand."

What if they're really bad? "For severe infestations, apply pesticides containing miticides or spray the roses with insecticidal soap," Villegas said. "But make sure that the spray is directed to the undersides of the leaves. DO NOT APPLY HORTICULTURAL OILS! "

Those oils can fry foliage in hot weather. Never apply any pesticides (even soap) when temperatures are above 90 degrees or in windy conditions. For best results, apply sprays in the morning during calm conditions.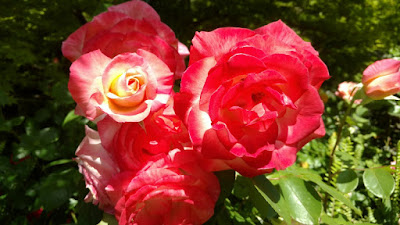 Gemini, a hybrid tea, turns redder when temperatures climb.

Villegas, a retired state entomologist, has another important tip: Take notes. That way, you'll remember when you did and when, and how it worked.

"Write down in a calendar when any pests made their first appearance and what action was taken," Villegas said. "Also, evaluate the spring bloom performance of your rose bushes!"

That way, you'll remember what bloomed when and how much, as well as which plants suffered the most mildew.