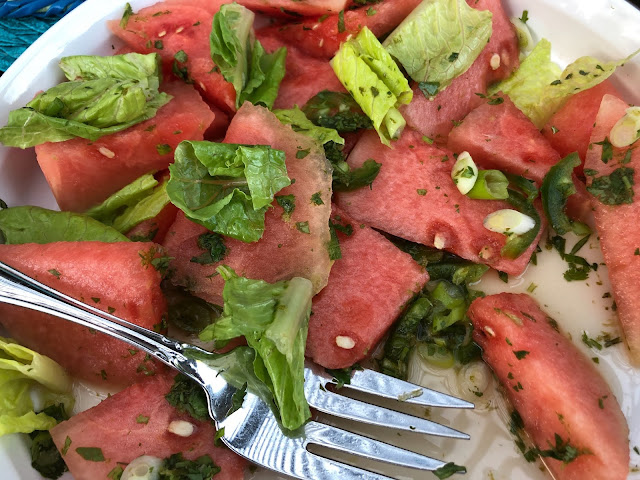 Watermelon, peppers and lime make a great summer salad. (Photos: Kathy Morrison)
Recipe: A pop of heat combines with cool watermelon
Watermelon is an under-appreciated savory ingredient. Standard green salads are great, but you can hardly call them refreshing. Toss in some cold watermelon chunks, and wow. (It is a relative of cucumber, after all.)
This salad takes things a step further by putting the watermelon front and center, and then adding ingredients that complement it. Looking at the ingredients list, you might be reminded of salsa, but there's not nearly the chopping involved.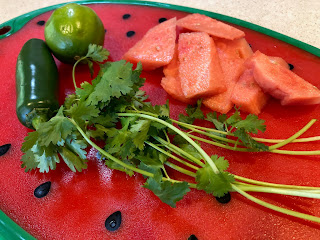 Some of the salad ingredients. Note how the melon is cut.
I adapted this from an Epicurious recipe that includes jicama. I'm not a big fan of jicama, which strikes me as chalky even when it's fresh.  I substituted the crispest pieces from a head of romaine lettuce. Lots of crunch without the flavorless chunks of jicama getting in the way.
This is ideal to serve at the 4th of July cookout as a contrast to the potato salad. Any leftovers hold up well in the refrigerator, too.
Spiced watermelon salad
Serves 4-6
I
ngredients:
One 3- to 4-pound seedless watermelon, preferably chilled if serving immediately
4 or 5 romaine lettuce leaves, washed and dried — the crispest ones in the head or in the package
1 large or 2 small jalapeño peppers, thinly sliced (remove the seeds if you like it less spicy)
1 or 2 scallions, sliced on diagonal, white and light green parts only
1/2 cup coarsely chopped cilantro
3 tablespoons fresh lime juice
Coarse sea salt, to taste
Instructions: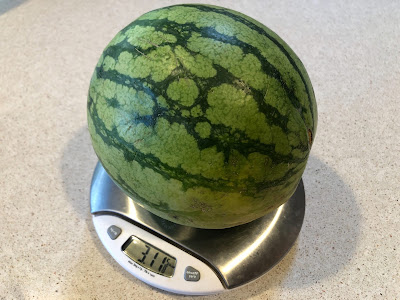 This watermelon is a few ounces under 4 pounds. For reference, the scale's
Cut watermelon in half, then in quarters. Slice off and discard the rind on one of the quarters. (Rind is great compost material — just saying.) Cut off shards (thin, not chunks) of watermelon, arranging them on a large plate or serving dish. You may not need all the watermelon, depending on its size and the size of your serving dish, so work with just one quarter at a time.
Break up the romaine leaves and scatter them over the watermelon. Toss the other ingredients together in a small bowl and drizzle the mixture over the watermelon and romaine pieces. Serve immediately or cover and chill until serving time.
Note: Want to know how to choose a good little watermelon? The ones at the farmers markets usually are ready to go, but the watermelons at the supermarket are a mixed bag. Look for:
1. A melon heavy for its size with a dull, not shiny, skin. It should a regular shape, whether round or somewhat oval.
2. A "field patch" of creamy white to yellow on one side, with yellow being best. This means the melon ripened on the ground. Avoid any without a patch.
3. Look for light scarring or dots on the melon. This is from bees, who know sweet.
4. Tiny dried sugar deposits on the stem end also indicate sweetness.
(Thumping a small watermelon is almost impossible, so leave that for the big melons.)